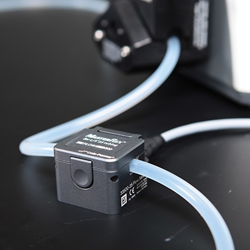 Vernon Hills, IL (PRWEB) August 15, 2017
Masterflex® Ultrasonic Flow Sensors, from Cole-Parmer, accurately and noninvasively measure the flow rate of liquid in tubing used with peristaltic pumps. The ultrasonic sensor never contacts the working fluid, making it reusable in single-use applications and yielding significant recurring savings over disposable sensors. An optional communications package allows users to adapt the flow sensor to their specific application, and also monitor and record data.
Each sensor is optimized for Masterflex tubing sizes and comes calibrated to national measurement standards for Masterflex platinum-cured silicone tubing formulations and water-like fluids. The sensor can be adapted for use with other working fluids or Masterflex tubing materials of the same size with the optional communications package. This sensor is perfect for monitoring flow rates during mixing, filling, fermentation, perfusion and filtration applications, delivering more reliability and accuracy than ever before.
The optional communications package lets the user adapt the flow sensor for their specific application, and then monitor and record data. Sensor parameters can be adjusted including tubing material, working fluid and temperature to calibrate for the application. Data can be monitored in realtime graphically, or can be recorded and exported to analyze the process later. The sensor connects directly to a computer or to any meter or controller that accepts RS-485, 4 to 20 mA, 0 to 20 kHz, or PNP-NPN push-pull inputs.
Get more information on the Masterflex Ultrasonic Flow Sensor at ColeParmer.com.
Cole-Parmer has been a leading global manufacturer and distributor of fluid handling products, instrumentation, equipment, and supplies since 1955. Our portfolio including popular brand names such as Masterflex®, Ismatec®, Oakton®, Digi-Sense™, Environmental Express® and more, are sold around the globe through direct sales, multichannel marketing outlets, and a strong network of international dealers. Cole-Parmer also features an ISO-17025-accredited metrology lab for instrument calibration and repair. Cole-Parmer responds with excellence to customer needs, and offers application expertise and technical support. For more information, contact Cole-Parmer, 625 East Bunker Court, Vernon Hills, IL 60061. In the US, call 1-800-323-4340. International customers, call 1-847-549-7600.