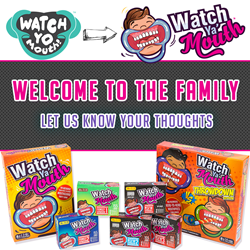 Staunton, VA (PRWEB) August 24, 2017
Watch Ya' Mouth, maker of the Authentic Mouthguard Party Game, is proud to announce that they have acquired Watch Yo' Mouth, further strengthening their grip on the mouthguard game phenomenon.
Watch Ya' Mouth is the thought-leader in the world of mouthguard party games, from their colorful mouthpieces that have undergone countless safety certifications to merging physical and digital gameplay to their many topic-spanning phrase expansion packs. In the last 12 months, Watch Ya' Mouth has grown from a humble Kickstarter campaign to a favorite item in the Oscar swag bag, quickly establishing itself as the brand authority amongst its competitors.
Of course this wouldn't have been possible without an amazing customer base. Watch Ya' Mouth's small team is devoted to customer satisfaction. They are dedicated to giving the customer what they've asked for with numerous expansion packs, meaning more hours of laughter. Through Watch Ya' Mouth's popular Community Card program, (https://wymgame.com/gdocform/) they've opened the lines of communication from the customer directly to product development.
"This acquisition will help provide a unified customer experience. It will further strengthen our ability to deliver hilarious content to our rapidly growing fan base, and ensure we remain the premiere game for group and family entertainment."
-Peter Denbigh, Founder and Chief Chaos Creator
Headquartered in Staunton, Virginia with a globally distributed team, the small, scrappy company develops and oversees the global distribution, marketing, and growth of this hugely popular phenomenon.