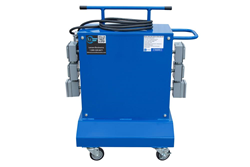 This power distribution system is portable, weatherproof, ruggedly built, and allows operators to safely tap into various power sources.
Kemp, TX (PRWEB) August 16, 2017
Industrial lighting leader, Larson Electronics LLC, has just announced the release of a new mobile power distribution center with a weatherproof portable base. This mobile transformer system provides the ability to safely tap into 120V AC power from various sources such as generators or direct grid power, making this unit ideal for indoor and outdoor applications that need temporary power.
The WALTX-120.1P-2.5KVA-240.1P-50A from Larson Electronics is a weatherproof mobile power distribution center , or "spiderbox", and is ideal for applications including construction sites, plant maintenance and turnarounds, hazardous location operations, exhibits and shipyards, among many others. It is designed to run on 120V AC electrical current with the ability to step up to 240V AC 60hz, which is available via one 50A, 240V 6-50R receptacle, allowing operators to utilize various power sources independently on the job site. With twenty feet of 12/3 SOOW ling in power cord terminated in a 5-15P cord cap, this transformer can be connected to a 120V primary power supply.
This mobile power distribution system's housing is constructed of steel with a corrosion resistant powder coated finish for a NEMA 3R enclosure rating, making it ideal for indoor and outdoor use. Additionally, this transformer system is low-voltage and designed with an angled base and low center of gravity, so it is sturdy and will not tip over. The entire distribution assembly is mounted on top of four polyurethane casters, two with a standard swivel, and two with a locking swivel to help aid in smooth transportation. To further enhance this unit's portability, it features an adjustable push handle, allowing operators to move this unit around the workspace with ease.
"This power distribution system is portable, weatherproof, ruggedly built, and allows operators to safely tap into various power sources," said Rob Bresnahan, CEO of Larson Electronics LLC. "This is extremely helpful at sites where temporary power is needed, and is needed in more than one place. This system can easily be transported from one place to another without hassle."
About Larson Electronics LLC: Larson Electronics LLC is a manufacturer of industrial lighting equipment and accessories. The company offers an extensive catalog of industry-grade lighting and power distribution products for the following sectors: manufacturing, construction, food processing, oil and gas, military, marine and automobile. Customers can benefit from the company's hands-on, customized approach to lighting solutions. Larson Electronics provides expedited service for quotes, customer support and shipments.
High Resolution Image 1-WALTX-120.1P-2.5KVA-240.1P-50A
High Resolution Image 2-WALTX-120.1P-2.5KVA-240.1P-50A
High Resolution Image 3-WALTX-120.1P-2.5KVA-240.1P-50A
High Resolution Image 4-WALTX-120.1P-2.5KVA-240.1P-50A
High Resolution Image 5-WALTX-120.1P-2.5KVA-240.1P-50A
Product Cut Spec Sheet-WALTX-120.1P-2.5KVA-240.1P-50A