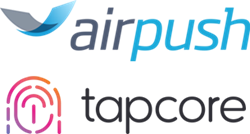 Recent reports suggest that marketers lost $7.2 billion to mobile ad fraud last year, and it's projected to grow to a staggering $16.4 billion by the end of 2017.
Los Angeles, CA, USA & Amsterdam, Netherlands (PRWEB) August 15, 2017
Airpush (http://www.airpush.com), the mobile advertising leader integrated into over 300,000 mobile apps, together with Tapcore (http://www.tapcore.com), the leader in mobile app piracy detection and monetization, today announced a merger aimed at helping mobile developers regain control of their app businesses. Together, the two companies plan to pool resources, technology and industry experience to create an entirely new solution for mobile developers and premium advertisers.
Recent reports suggest that marketers lost $7.2 billion to mobile ad fraud last year, and it's projected to grow to a staggering $16.4 billion by the end of 2017. On the other end of the spectrum, it's estimated that nearly 80% of free Android apps have been hacked, while 75% of free iOS apps have been compromised. Considering that revenues from these app stores will reach $21 billion for Google Play alone, and $20 billion for the vast number of third-party Android stores this year, it's easy to see that mobile app developers stand to lose billions in hard earned ad revenue as a result.
As a pioneer in the mobile advertising space, Airpush has spent the last 7 years working with mobile publishers and collecting data and insight into the growing problem of app piracy. In helping hundreds of thousands of app developers monetize their efforts, Airpush has been on the forefront of the piracy and fraud issues crippling the industry. With it's SDKs embedded on more than 300,000 mobile apps worldwide, the company sits in a unique position to take meaningful action against the problem.
Tapcore, who entered the space in 2015, provides an innovative SDK designed to analyze the legitimacy of mobile app installs. The company aims to turn the rampant problem of piracy into an opportunity for app developers. Tapcore's proprietary algorithm is able to track global pirated installs, collect analytics and offers various solutions to engage and monetize these users.
In combining the cutting-edge technology of Tapcore, with the insight and mass developer footprint of Airpush -- the merger creates a unified, laser-focused solution to begin cleaning up the tainted mobile app landscape. Together, both companies are poised to combat both issues head on, while also providing a new solution for developers to truly monetize their users beyond traditional means.
"We've seen first hand the challenges piracy and fraud present in all aspects of the mobile advertising industry and our business specifically," explains Asher Delug, CEO and Founder of Airpush. "From ensuring our 20,000+ advertisers maintain the effectiveness they've come to rely on with our platform, to battling piracy that affects the tens of million of users on our network around the world. Tapcore presents the perfect solution to help tackle these challenges through an extremely well-executed approach that complements our overall market strategy."
Helping eliminate piracy reaches all aspects of the broader market -- from every partner and stakeholder to the immense amount of data that loses integrity as a result. Together, Airpush and Tapcore are perfectly positioned to become a driving force in advancing this movement.
"I'm extremely proud of what our team has been able to create, and the potential our technology has to truly create a shift in the industry when it comes to anti-piracy and ad fraud," said Stefans Keiss, CEO and Founder of Tapcore. "Joining forces with Airpush gives us the reach and platform to truly extend our solution to the masses."
Both companies will remain independent and continue to serve their respective clients, but will combine technology, teams and infrastructure to strengthen the overall effort. The Tapcore and Airpush SDKs will be integrated to provide one, cohesive solution for developers to track, analyze and monetize their users.
The newly merged entity will have new management headed by CEO Stefan Keiss and CTO Dmitry Shkolnikov. Current Airpush CEO Asher Delug will move into the role of Chairman of the Board, while current Airpush COO Inman Breaux will move into the role of President. The combined companies are also in the process of raising a round of investment to aid in its aggressive growth and strategic acquisitions.
About Airpush
Winner of the DataWeek "Top Innovator in Advertising Data" award and recognized by Forbes as one of America's "Most Promising Companies", Airpush is a worldwide leader in digital advertising solutions. With powerful platforms integrated into over 300,000 mobile app, mobile web, and virtual reality properties, as well as one of the world's largest consumer data marketplaces, Airpush provides some of the most diverse and highest performing monetization and advertising solutions in the industry. Founded in 2010, the company has approximately 250 employees and offices in Los Angeles and Bangalore, along with sales regions in all major markets. For more information, visit http://www.airpush.com or follow us on Twitter @AirpushAds.
About Tapcore
Tapcore's technology allows mobile developers to detect all illegal copies of their mobile applications, collect analytics and offers various solutions to engage and monetize these users. Tapcore's unique approach helps mobile developers take back their well-deserved revenue from the illegal installations of their mobile applications. Founded in 2015, the company has more than 50 employees working across 9 countries. For more information, visit http://www.tapcore.com or follow us on twitter @tapcore