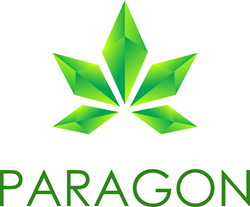 What Paragon is doing is bringing cannabis up to speed with mainstream businesses - actually not just up to speed, but bringing it ahead of other businesses with next-generation technology.
Oakland, California (PRWEB) August 15, 2017
Despite Cannabis garnering attention lately, with many states legalizing marijuana for medical and/or recreational use, the burgeoning Cannabis industry has been deficient in structure, security and transparency. Paragon is a blockchain for the marijuana industry. Paragon's mission and protocol is detailed in their whitepaper, released today.
A blockchain is a public distributed ledger that is ideal for securely and transparently tracking data, a capability that is particularly important for the expanding cannabis market. Paragon's data and tracking services will be open to all participants in the cannabis supply chain, including growers, labs, doctors, customers, and retailers. For example, using Paragon, a doctor could digitally certify a patient's prescription, which a vendor could then verify at the point of sale. Or a batch of cannabis leaving the farm could be digitally stamped onto the blockchain, creating an indelible digital record of when it was harvested, shipped, and perhaps certified by an organic certification body. All of these components of the cannabis ecosystem present opportunities for new businesses and economic development, which Paragon will support and accelerate.
Paragon was founded by Jessica VerSteeg, an entrepreneur, former Miss Iowa US, and reality TV star. After her ex-boyfriend, Super Bowl champion Tyler Sash, died from an overdose of pharmaceutical painkillers, she became a passionate advocate of marijuana as an alternative, and founded AuBox, an upscale marijuana delivery service in the Bay Area.
"I thought Tyler had dementia because he heard voices and was constantly forgetting things," said VerSteeg. "But when I was told it is impossible for someone his age to have that I felt lost and had no explanation or his behavior. A few months before our break up I realized he had an addiction to painkillers and I blamed the depression, his aggression and wild mood swings on the pills he was taking, because it was all I had as a reason for every out burst or for the days he would sleep for 13 hours. Eventually our relationship ended because of the pills. During his time in the NFL he asked me if he could smoke marijuana for the pain instead of taking the painkillers the NFL doctors were giving him because he was scared he would get addicted to the pills and I told him no. I told him no, because I did not want him to get randomly drug tested and possibly lose his career over marijuana. I told him no because I thought it was a "bad drug" and I was uneducated about the medical side of cannabis. I told him no because I did not know an addiction to pills was really possible, and I trusted the NFL doctors. I kept thinking if I had just let him smoke for his pain we never would have broken up over his addiction to pills. I kept thinking If I had let him smoke marijuana for his pain he never would have overdosed on painkillers. I started AuBox to take away the "stoner" image of cannabis and my goal in building Paragon is to provide a structure for the cannabis industry that will hopefully help the legalization of medical marijuana to all states and provide necessary medical care for those who need it."
Paragon's advisory board includes Juan Carlos Gómez, Director of Clinical Programs at the Carlos A. Costa Immigration and Human Rights Clinic, Paul Kim, CEO of Xfire, and Jayceon Terrell Taylor, better known by his rap name, The Game. The Game explained why he supports Paragon, "This is a crucial moment for the cannabis industry. This is its moment - legalization is happening. What Paragon is doing is bringing cannabis up to speed with mainstream businesses - actually not just up to speed, but bringing it ahead of other businesses with next-generation technology."
In accordance with its mission to accelerate the cannabis economy, Paragon will be building coworking spaces in cities around the world. Holders of their digital token, ParagonCoin, will be able to vote on where the coworking spaces will be constructed. In addition to voting rights, ParagonCoin can be used to pay for goods and services in the coworking spaces -- anything from office space to coffee and a donut, though it will not be used by end-users to purchase cannabis products. ParagonOnline will be a community platform similar to Reddit and Steemit for the network of cannabis professionals to share knowledge. ParagonAccelerator will be a startup accelerator for cannabis-related businesses using ParagonCoin, ParagonSpace, and ParagonOnline.
Paragon will sell 100 million ParagonCoins at $1 each from September 15, 2017 to October 16, 2017. ParagonCoin will begin trading on cryptocurrency exchanges in November 2017. To stay up to date with Paragon's upcoming announcements, join their community Slack channel here.
For media inquiries, or to schedule an interview, please contact Donald Berlin at Voyage Resources: don(at)voyageresources(dot)com or call 303-589-5774.
About Paragon
Paragon is a distributed ledger for the marijuana industry and supply chain. Paragon's blockchain-backed network will enable secure and transparent record-keeping for doctor registries, marijuana IDs, and prescriptions. The protocol can also be used to log data pertaining to cannabis products, including time of harvest, origin, organic status, CBD/THC content, and sustainability. CEO, Jessica VerSteeg, is a well-known beauty queen and reality TV star (Amazing Race). Egor Lavrov, Chief Creative Officer, is a serial entrepreneur, who sold his first business for $2 million at the age of 16. Paragon's team includes alumni from Facebook, Google, Cisco, and Y-Combinator. Rapper The Game sits on Paragon's advisory board.