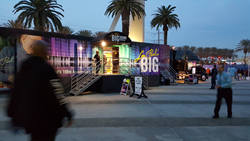 Detroit, Michigan (PRWEB) August 16, 2017
Les Paul's Big Sound Experience, a national touring mobile exhibition, was one of five winners in the 2017 Corporate Event Awards presented by Exhibitor Magazine. Determined by a panel of six event marketing experts, the winners were deemed "able to step outside of the norm while also delivering an impressive return on investment". The winners were chosen earlier this year in Las Vegas through a lengthy and thorough analysis.
"The Les Paul Foundation came to us seeking to engage both longtime Les Paul fans – generally older generations and experienced musicians – as well as Millennials who had little to no knowledge of Paul's life and hard work," says Jim Notarianni, Director of Educational Outreach at MRA, "from the outset we knew that part of the tour audience would be unfamiliar with the life and music of Les Paul. So our approach had to ensure that the visitor experience engaged diverse audiences and provided personal touchpoints."
The mobile exhibit was developed by the Les Paul Foundation to celebrate Les Paul's 100th birthday. It traveled across the United States stopping at festivals, fairs and schools over the past year. Designed and built by Michigan-based company MRA mobile experiential, Les Paul's Big Sound Experience was housed in a 53-foot double-expandable trailer that expands into 1,000 square feet of interactive experiences. The exhibit is the ultimate tribute to Les Paul's history, music and inventions.
In partnership with Green Bay, Wisc. digital interactive agency Balance Studios, MRA outfitted the exhibit with state-of-the-art technologies to give visitors a personalized experience. Customized interactive stations included an audio mixing experience that allowed visitors to create a personalized music mix of a famous Les Paul track using the ground-breaking multi-track recording techniques he pioneered. Guests could also "Get in the Picture with Les Paul" in the exhibit's popular photo booth and social media station.
Overall, the mobile experience was a great success, exceeding attendance expectations and garnering millions in ad value. The Les Paul Foundation was also able to achieve their goal of increasing their database of contacts, by gathering almost 13,000 unique attendee email addresses.
For more information on Les Paul's Big Sound Experience, visit http://www.exhibitoronline.com/topics/article.asp?ID=2409.
###
ABOUT MRA
MRA mobile experiential is an industry leader in mobile exhibit and event marketing. It specializes in custom design, vehicle sales and leasing, as well as tour equipment and logistics-management services for the experiential marketing and exhibiting needs of museums and many Fortune 1000 firms. MRA works either directly or in association with leading agencies and exhibit builders worldwide. Visit http://www.goMRA.com and http://www.youtube/MRAmobiletours.