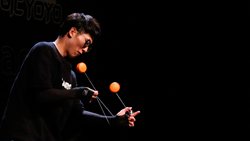 Reykjavík, Iceland (PRWEB) August 15, 2017
Shu Takada landed an impressive and acrobatic performance to win the two-handed division at the World Yoyo Contest this past weekend (August 10-12) in Iceland. His win helped to show the advantages of a new concept in yoyo design: a fully modular yoyo called the Loop 2020. What makes this yoyo unique is that every part of the yoyo can be swapped out for something else. Players can change the weight, response, speed, and spin time of the yoyo to match their style and level of skill.
The Loop 2020 is designed for world class players like Shu Takada who need to fine tune their equipment to hit their difficult and innovative tricks. For example, setting the yoyo up with a more narrow gap makes the Loop 2020 play faster, but reduces spin time. Adding some weight can help make up for that loss in spin time. While new players may be better off with a solid starter yoyo like the Oracle - also designed by YoYoFactory - for players on the cutting edge, the Loop 2020 will be a game changer.
Currently, most players in the two-handed division use a yoyo that hasn't changed in over 20 years. To fine tune their yoyos players use sand paper, over-tighten the gap, and grind down parts of the yoyo to achieve their desired setup. The Loop 2020 solves this problem by offering separate pieces that can be swapped in and out with predictable results.
The difficulty in designing the Loop 2020 was getting the yoyo to feel like one solid piece, even though it is made up of several replaceable parts. For other looping yoyos this is achieved by using a sonic weld to attach the yoyo cap to the body. Once the weld fails, however, the yoyo needs to be replaced. To achieve the same solid feel, the Loop 2020 uses a three-screw system that attaches the cap to the center response ring on the other side of the yoyo body. These three screws sandwich the yoyo body between the yoyo cap and response ring, achieving the same solid experience of a sonic weld, while being less prone to failure and allowing for swappable parts.
Shu Takada's winning performance can be seen now. The Loop 2020 will be available to retailers early Fall.
Contact
To learn more about Shu Takada or YoYoFactory contact:
Adam Bottiglia
adam(at)yotricks(dot)com
YoYoFactory is the designer and manufacturer of innovative yoyos like the Loop 2020. Their yoyos can be found in stores around the world, and they are well known for their competition ready yoyos, as well as their easy to use beginner models like the Velocity yoyo and the Fast 201.