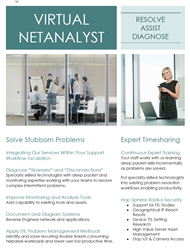 Apalytics is a portmanteau of words Application-Analytics providing advanced deep packet analysis to diagnose performance and connectivity problems.
Austin, TX (PRWEB) August 15, 2017
Apalytics Corporation announces the Virtual NetAnalyst Program.
The program gives CIOs, high level Help Desks and network managers rapid access to deep packet analysts experienced in diagnosing and resolving critical issues.
Bill Alderson, founder of Apalytics is known worldwide for his services in cyber security and network diagnostics and for his company's role in recovery of the United States Pentagon network after the attack on 9/11 and for critical problem resolution for large private organization networks.
The "Virtual NetAnalyst Program is designed to help organizations solve the most stubborn problems that cost millions in lost productive time." said Bill Alderson. Specialty skilled deep packet technologists are brought into existing workflows to identify causes and guide network teams to restore function and optimize application performance. The goal is to improve visibility and build customer confidence by definitive problem diagnosis.
Apalytics Corporation is regarded internationally as the most experienced independent organization to resolve problems others have failed to diagnose. The company has provided services to 75 of the Fortune 100 companies and many other customers worldwide.
Connect to Bill on Linkedin https://www.linkedin.com/in/billalderson/