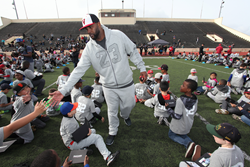 "We founded the PitCCh In Foundation to help kids raise their self-esteem through educational and athletic activities" CC & Amber Sabathia
New York, NY (PRWEB) August 15, 2017
MLB Pitching Legend CC Sabathia announced today that he is joining MindMeet as a Knowledge Giver.
On September 25th, CC will host his first MindMeet where he shares stories about his life and his passion for helping inner city kids achieve their dreams. CC's MindMeet will raise funds for his charity, The PitCCh In Foundation whose mission to enhance the lives of disadvantaged children.
MindMeet is a new platform launched July 17th that promotes the sharing of knowledge for social good. MindMeet connects knowledge seekers with those who have expertise and standing in different verticals, including sports. Fees for virtual and "in real life" meetings are donated to charities, designated by the knowledge giver.
"I started the PitCCh In Foundation with my wife Amber to let kids know that they can do whatever they want no matter what obstacles they face," said CC. "That's why I'm excited to be a part of MindMeet—to interact with fans and raise money to help more youth in need."
CC's MindMeet posts today, allowing fans to participate and hear first-hand from him on September 25th. All funds raised through MindMeet will support one of PitCCh In's signature programs, the Youth Backpack Program. The foundation will provide over 5,000 backpacks filled with school supplies to youth in the Bronx and the Sabathia's hometown of Vallejo, CA. As part of the MindMeet campaign, there will be exciting teasers and opportunities to enter for a chance to attend the Bronx backpack event to help handout backpacks with Amber and CC. For further info and to participate in CC's MindMeet, please visit https://www.mindmeet.us/mindmeet-cc.
"CC is a leader on the field and off," said Chinedu Echeruo, Co-CEO of MindMeet. "His commitment to help others and to share his expertise make him an ideal MindMeeter. We're delighted to work with CC and Amber to raise funds for PitCCh In and to spread CC's magical story of rising to the top of the MLB. His resolve, grace under pressure and community-mindedness are exemplary. CC is the perfect example of how leaders can help those seeking knowledge and inspiration and originate funds to support worthy nonprofits through MindMeet's platform."
"We created MindMeet to change lives," said Co-CEO Pamela Abalu. We believe that the right advice can make all the difference for an individual. CC is a superhero; he has inspired so many with his talents, his discipline and fortitude. He is exactly the kind of leader who we want on MindMeet, offering wisdom while helping to heal our planet."
For more information, visit MindMeet at http://www.mindmeet.us.
Follow us on Instagram: @MindMeet.us
Like us on Facebook: @MindMeet.us
Follow us on Twitter: @MindMeet_us
Connect with us on LinkedIn: MindMeet.us
About MindMeet
MindMeet extends the sharing economy to knowledge. It is designed expressly to democratize knowledge. MindMeet recognizes the transformational power of the right advice at the right time in our human experiences.
About The Love & Magic Company
The Love & Magic Company is a startup studio based in New York. MindMeet is the first portfolio company introduced by The Love & Magic Company.
About PitCCh In Foundation
The PitCCh In Foundation is a 501 (c)(3) non-profit organization founded by New York Yankees pitcher CC Sabathia and his wife Amber. The foundation's mission is to enrich the lives of inner city youth by raising their self-esteem through educational and athletic activities in the New York Tri-State area and Northern California. The foundation showcases three signature programs that provide young people with the tools to be successful in school and on the field: All Star Baseball Clinic, Youth Backpack Program and Holiday Caravan. Additionally, the PitCCh In Foundation is dedicated to supporting and renovating baseball fields in the inner-city.
For more information on the PitCCh In Foundation, visit http://www.PItCCh.org or follow on Twitter @PitCChInFdn, @CC_Sabathia, @AmberSabathia, Instagram @PitCChInFdn, @CC_Sabathia52, @AmberSabathia and on Facebook at http://www.facebook.com/PitCChInFdn.
###
Media Contacts:
Andy Morris
Code Morris for MindMeet
andy.morris(at)codemorris.com
917.710.1802
Clark Williams
Berk Communications for PitCCh In Foundation
clark(at)berkcommunications.com
817.713.8844