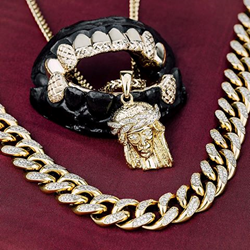 We feel street culture has become more and more affluent over the years, and the college student seems to sit at the epicenter of this movement
Los Angeles, California (PRWEB) August 16, 2017
The Gold Gods, the industry-leading street culture jewelry and accessories brand, is proud to announce its first ever College tour entitled Gold Gods On Campus.
In partnership with select universities, Gold Gods On Campus features The Gold Gods brand visiting a variety of colleges and producing mini events for students consisting of unique games, exclusive giveaways, special offers, and a custom VR experience. Integrating with existing college campus activities, The Gold Gods is bringing a taste of urban streetwear culture to universities beginning on the west coast in August and September.
Gold Gods On Campus schedule is as follows:
Arizona State University / Aug 16, 6p-9p / Passport to ASU
USC / Aug 19, 5p-8p / Welcome Back Concert
UC Berkley / Aug 20-21, 10a-4p / Caltopia Days
Cal State Fullerton / Aug 30 / 11a-2p / Discoverfest
UC San Diego / Sept 24, 8a-12p / Fall Y'All
UC Irvine / Sept 25, 11a-4p / Club Day
UCLA / Sept 26, 11a-3p / Enormous Act Fair
"We feel street culture has become more and more affluent over the years, and the college student seems to sit at the epicenter of this movement," says Cam Love, Creative Director and founder of The Gold Gods. "Gold Golds On Campus gives us the opportunity to reach out to the college student, and personally connect with them as a brand, further building our community."
For more information about The Gold Gods, or for more information about Gold Gods On Campus, please visit http://www.thegoldgods.com.
About The Gold Gods
The Gold Gods (http://www.thegoldgods.com) is a leading jewelry and accessories brand tailored towards the urban street culture lifestyle. Founded in 2013 in Kansas City, MO, the lifestyle brand combines unique designs with quality craftsmanship to deliver premium trendsetting products. The Gold Gods is the top retail-selling urban jewelry line in North America distributed in more than 800 stores, as well as online worldwide. The Gold Gods flagship retail store is located at 450 N. Fairfax Avenue in Los Angeles, California.