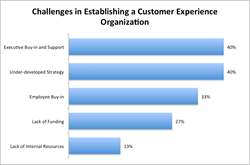 The key to a better customer experience is improving communications and awareness in combination with process improvement.
Athens, GA (PRWEB) August 16, 2017
The Ascent Group announces the availability of its latest report, Customer Experience Initiatives, from its popular research series, The Service Delivery Advantage.
While customer satisfaction and customer care have been a key focus for several decades, the Ascent Group's benchmarking research reveals that companies are actively leveraging customer feedback to re-shape internal business processes, redesign self-service technologies, and rewrite policies in an effort to improve the customer experience.
Customer Experience Initiatives, a new research report published by the Ascent Group, delves into the strategies that are driving customer experience improvement across many industries. Study participants include: Xerox, Brother International, Bangor Savings, Cisco, NCR, Microsoft, Plantronics, Southern Company Gas, TD Insurance, and Xcel Energy.
Customer Experience Initiatives explores how companies are promoting the importance of the customer experience and how the customer experience factors into individual, team and company performance objectives and compensation.
The Ascent Group researches customer service organizations throughout the world to provide a thorough overview of the state-of-the-art and "best practices" in customer service and packages it in a series of practical research publications—the perfect tool to help management "do more with less."
Other volumes available for purchase include: Call Quality Practices, IVR Self-Service Improvement, Meter Reading Profiles & Best Practices, Call Center Strategies, Achieving First Call Resolution, Billing & Payment Options, and Credit & Collection Practices.
The Ascent Group is a management consulting firm specializing in customer service operations improvement. Recent consulting engagements include customer experience assessments, performance measurement and benchmarking, customer experience improvement, and customer service diagnostic assessments.