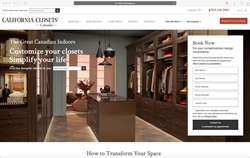 It was really a great experience getting to work with some of the best minds in branding, content, and marketing strategy.
Ballston Lake, NY (PRWEB) August 31, 2017
Meticulosity and project partner McCann Canada have launched an all-new Canadian website for California Closets after months of meticulous planning, development, and brand strategy. California Closets, a subsidiary of FirstService Brands, faced an issue many global brands face - how to be relevant to Canadians and feel like a "Canadian company" while still representing their global brand. To solve their problem, California Closets engaged branding and advertising leaders McCann Canada along with enterprise web development agency Meticulosity to create an all-new website that was inspired by their corporate brand while still speaking directly to Canadian buyers.
 
"It was really a great experience getting to work with some of the best minds in branding, content, and marketing strategy. This was a truly interdisciplinary collaboration between California Closets, McCann, and Meticulosity. The outcome was a site that not only looked great, but has tailored content that speaks to each visitor while being built on an efficient and reliable software platform." – David Ward, President of Meticulosity
 
The new Canadian website is an incremental evolution of design, content, and functionality from their existing US website. The Canadian site offers a unique localized experience that customizes content for visitors from their respective California Closets franchise market. In addition to the new user experience and design, the site is also powered by an all-new content management backend that is faster, more efficient, and easier to use for California Closets' web team.
 
"It was important that we built a website for Canada that spoke to local markets and Canadian buyers yet was on-brand with our corporate vision. Our new website accomplished a balance of local content and media along with brand voice to make this marketing strategy a success." Samara Toole, Chief Marketing Officer, California Closets
 
User experience and best-practice mobile design drove many of the decisions behind the redesign. Meticulosity and McCann Canada worked directly with California Closets' corporate design team to took the best components of their existing US site and improved upon them. The new website is powered by a highly-customized WordPress backend developed by Meticulosity.
 
About California Closets:
For nearly four decades, California Closets has built a reputation as a leader in premium and luxury space management. Committed to Designing Better Lives®, California Closets delivers custom organizational solutions and unparalleled customer service with nearly 130 showrooms and over 700 design consultants across North America. Visit CaliforniaClosets.com to learn more.
 
About McCann Canada:
Since 1912, McCann has lived the promise of Truth Well Told – a guiding philosophy that has stood the test of time. And today, as people's attention becomes increasingly divided, it's more important and powerful than ever. McCann Canada is a full-service branding and marketing agency that has some of the biggest brands in Canada as clients.
 
About Meticulosity:
Meticulosity is a boutique web design, development, and marketing agency that specializes in creating websites that are the perfect marriage of form and function. Our web meticulous developers work directly with our strategic project managers and marketing team to build websites that drive traffic, generate leads and sales, and provide a premium experience for website visitors.