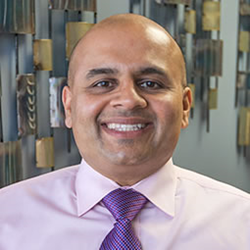 Schaumburg, IL (PRWEB) August 15, 2017
Compassionate and practiced at putting his patients at ease, Dr. Jig Patel now offers nitrous oxide as an additional form of sedation dentistry at his practice. Dr. Patel invites those with dental fear in Schaumburg, IL, to receive the oral care they need for healthy teeth and gums using personalized sedation treatment. The entire team at Schaumburg Dental Studio strives to make patients with or without dental fear feel relaxed and eliminate any tension or discomfort they would otherwise go through at a routine cleaning or a more extensive periodontal procedure.
Tooth sensitivity or previous bad experiences in the dental chair can create dental anxiety that may be so severe that people decide they would rather suffer a cavity than schedule a routine cleaning. However, when individuals do not receive the care they need, cavities are just the beginning. Below the gum line, bacteria attack sensitive tissues and lead to inflammation and infection. Pus pockets develop that pull the gums away from the teeth, causing gum recession, pain and eventually, tooth loss. To prevent this type of severe damage, to treat it or to reconstruct the smile, Dr. Patel employs a method of anesthetic delivery that does not require a needle. Using the Wand® Anesthesia, he is able to precisely deliver numbing medicine to fully numb the area that needs treatment, without a needle.
Dental fear in Schaumburg, IL, may go much further than an anxiety over needles, and for these patients, Dr. Patel often recommends custom sedation dentistry. He now offers nitrous oxide, which is an inhaled sedation commonly called "laughing gas." This method alleviates the tension, and because it is carefully controlled, the patient may recover from its effects quickly. Patients may also benefit from oral sedation by conveniently taking a pill before treatment in order to feel relaxed throughout their care. Dr. Patel also offers general anesthesia, which is administered by an anesthesiologist and puts patients at a state of complete relaxation so they are not awake during the procedure.
Those with dental fear in Schaumburg, IL, can learn more about sedation dentistry and the other services offered at Dr. Patel's practice by visiting his website at http://www.schaumburgdentalstudio.com, or calling 847-348-8673 to schedule a personalized appointment.
About the Doctor
Schaumburg Dental Studio is a general and cosmetic dental practice offering personalized dental care to patients in Schaumburg, IL since 2004. With nearly 20 years of experience, Dr. Jig Patel provides cutting-edge care including dental implants, laser gum disease therapy, orthodontics and cosmetic dentistry treatments. Dedicated to his patients, he frequently participates in community charities including the Dentistry from the Heart Program each year. A patient-centered office, the entire team at Schaumburg Dental Studio strives to offer leading-edge treatments using the latest technology while also making them affordable for their community. To learn more about Dr. Patel, Schaumburg Dental Studio or the services they offer visit their website at http://www.SchaumburgDentalStudio.com or call 847-348-8673 to schedule a custom consultation.