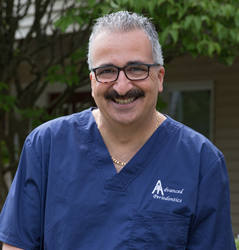 Monroe, CT (PRWEB) August 15, 2017
Dr. Richard Amato is raising awareness of the advantage of receiving gum disease treatment from a qualified periodontist. Practicing as a periodontist in Monroe, CT since 1989, Dr. Amato understands that many patients may not know the difference between a dentist and a periodontist. He is educating his community on how to choose the right clinician for their periodontal treatment.
Every periodontist is a dentist, but only 3 percent of dentists are periodontists. Periodontists are specialists who have completed three additional years of training focused on diagnosing, preventing and treating periodontal disease, as well as the placement and maintenance of dental implants. Periodontal disease or gum disease many not be noticeable by patients at first. Swollen, red or bleeding gums and bad breath may show as early symptoms of gingivitis, the first stage of gum disease. However, receiving a diagnosis from a skilled periodontist is highly recommended.
After Dr. Amato determines if a patient has periodontal disease, he creates a custom treatment plan. Offering scaling and root planing, periodontal maintenance and LANAP® laser gum disease treatment, Dr. Amato advises an effective and minimally invasive treatment option to restore patients' health. If left untreated, periodontal disease can lead to gum recession, tooth loss, heart disease and stroke.
Awarded a Fellowship from the Institute of Advanced Laser Dentistry and a former Clinical Instructor of Periodontics at the University of Connecticut School of Dental Medicine Dr. Amato is dedicated to not only his community but also his field. He offers the latest training and technology including laser dentistry at his practice, Advanced Periodontics and Dental Implant Center of Connecticut LLC.
Dr. Amato and his team believe that each patient deserves the best periodontal care possible. They encourage patients with gum disease symptoms including swollen or bleeding gums to visit their office for a consultation. To schedule an appointment with a periodontist in Monroe, CT, call 203-712-0917 or visit http://www.connecticutperiodontist.com.
About the Periodontist
Dr. Richard Amato is a leading periodontist and dental implant specialist who provides personalized dental care using the most advanced technology for patients at Advanced Periodontics and Dental Implant Center of Connecticut LLC in Monroe, Connecticut. He has placed thousands of dental implants since 1989. Dr. Amato earned a DDS degree from Stony Brook University. He then completed a full-time multi-year specialty residency and received his Certificate of Proficiency in Periodontics from Eastman Dental Center at the University of Rochester. He belongs to the one percent of dentists in the USA currently providing the first FDA-cleared laser procedure for gum disease treatment. Dr. Amato is the first and most experienced provider of LANAP® therapy in Fairfield County, Connecticut as well as the first Periodontist to provide the Pinhole® Surgical technique in CT. To learn more about Dr. Amato and his dental services, visit his website at http://www.connecticutperiodontist.com and call 203-712-0917.