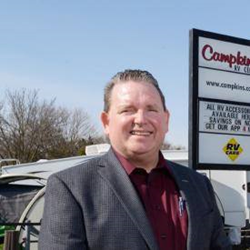 His dedication to getting the job done comes from his Dad, who told him many years ago "Amateurs make excuses, professionals get it done".
Myrtle Station, Ontario (PRWEB) August 17, 2017
The Ontario Recreation Vehicle Association announced Roland Goreski, Owner and General Manager of Campkin's RV Centre, Myrtle Station, Ontario as the Dealer of the year at their 2017 AGM and Golf tournament August 9, 2017 at Pike Lake Golf Course, Minto Ontario.
His experience in the RV industry goes back to the 70's when he started working at his families Dealership, Skyview Trailers in Trenton Ontario. Roland's father Mel Goreski was a board member of ORVDA and supported ORVDA programs and RV shows.
At Skyview Trailers he quickly embraced the General Manager position and with help from Spader and ORVDA he got involved in educating himself and his staff to improve the dealership.
Roland joined a Spader 20 group and expanded his relationship with colleagues from across Canada, learning and sharing.
When Roland decided to leave the family business he called Brad Campkin to "review his resume" and the next chapter of his career began. Roland started at Campkin's RV in the Service Department, then Parts Manager and then Sales and Lead Sales person.
His dedication to getting the job done comes from his Dad, who told him many years ago "Amateurs make excuses, professionals get it done." It was this attitude that made him the perfect candidate to become General Manager at Campkin's RV.
As General Manager he helped with Campkin's RV expansion in 2009 and helped grow the company during the most trying economic times.
This all lead to Roland being the perfect candidate to purchase Campkin's RV Centre when Brad Campkin decided it was time to retire. "Roland has all the experience and desire that it takes to run a successful RV Dealership in the 21st century, I quickly realized he was the perfect guy to carry on the Campkin's RV business."
Roland serves as Treasurer on the ORVDA board, Chairperson of the ORVDA education committee and serves on several other ORVDA committees such as the Golf/AGM committee and the Membership committee as well as the National Education Committee for the RVDA of Canada. Roland has always made sure to support local charities and community events and continues today supporting Make-a-Wish, Big Brothers Big Sisters of North Durham and Oshawa/Whitby as well as several charitable community events such as Brooklin Fair, Port Perry Fair, Durham Highland Games and Whitby Ribfest just to name a few.
Campkin's RV Centre operates on 6 acres, north east of Toronto and is a high volume Prime Time Manufacturing dealer as well as Coachmen Clipper and Apex, Cherokee, Grey Wolf and Wolf Pack Toy Haulers. They have a large Parts & Service operation as well.
Roland loves to spend time with his wife Kelly and their three daughters and four grand-daughters.
Contact:
Diane Kouleas
Campkin's RV Centre
905-655-8613