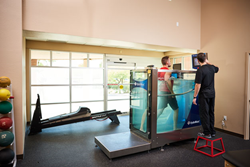 LaCount's webinar highlights her own practice's journey from unknown startup to successful business.
Middletown, PA (PRWEB) August 15, 2017
On August 17, 2017, from 1:00-2:00 p.m. E.D.T., Keitoria LaCount, Owner and Executive Director, Holistic Occupational and Physical Therapy, will lead a webinar discussion on the ways physical therapy practices can boost their profitability with aquatic therapy. The webinar, "Building a Business with Aquatic Therapy," touches upon several key topics important to entrepreneurs like LaCount who are attempting to break into their respective markets by appealing to the growing need for innovative rehabilitation solutions. The webinar is hosted by HydroWorx, a leading manufacturer of aquatic therapy pools and modalities.
Each year, more than 28 million startups are founded, according to the United States Small Business Administration; of those new companies, many will target the burgeoning healthcare market. "Building a Business with Aquatic Therapy" gives actionable advice on advanced aquatic therapy practices and equipment to all founders who want to give themselves a competitive edge.
LaCount's webinar highlights her own practice's journey from unknown startup to successful business. During the discussion, she will talk heavily about the benefits of incorporating aquatic therapy into her business model to improve patient outcomes and increase profitability. Other topics include ways to expand an aquatic therapy patient base, optimize patient retention and how to navigate the complexities of medical insurance reimbursement.
At the conclusion of the webinar, attendees will have the opportunity to ask LaCount questions as part of the online forum. The webinar is free to attend, but preregistration is required.
About the Speaker
Keitoria LaCount, whose company is based in Atlanta, Georgia, brings a wealth of experience to her webinar. A graduate of Florida A&M University in Tallahassee, she is a licensed occupational therapist in the state of Georgia and isnationally board certified. Her professional expertise was honed during time spent in Pennsylvania and New Jersey. Today, she specializes in providing western and holistic treatments to her diverse patient base.
About HydroWorx
Since the late 1990s, HydroWorx has manufactured aquatic therapy products with integrated underwater treadmills to enable rehabilitation professionals to more effectively offer their patients the opportunity to increase range of motion, decrease risk of falls and joint stress, and remain motivated through the rehab process.
Products such as the HydroWorx 2000 and 500 Series, along with the HydroWorx 300 system have revolutionized the face of aquatic therapy; in fact, HydroWorx technology is used by world-class facilities such as OrthoCarolina, Cleveland Clinic, Kennedy Krieger Institute, Genesis Healthcare, Neuroworx, Clear Choice Healthcare, PruittHealth, Premier Rehab, Leg Up Farm and many other healthcare facilities across the country.
HydroWorx offers a wide range of underwater treadmill pools and peripheral products and services. Every day, more than 30,000 athletes and patients use HydroWorx technology to recover from injuries and health conditions.
More information about HydroWorx can be found at http://www.HydroWorx.com.