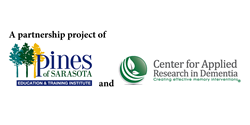 [Dr. Camps'] engagement programs offer tips and techniques that provide quality of life like no other, and this convenient webinar format will enable us to bring this critical information to caregivers and senior care professionals worldwide."
Sarasota, FL (PRWEB) August 16, 2017
Pines of Sarasota Education & Training Institute and international trainer Dr. Cameron Camp join forces to offer a series of Montessori-inspired dementia lifestyle training webinars.
Cameron J. Camp, Ph.D. created the "Montessori Inspired Lifestyle ®", an innovative approach to activities programming that combines rehabilitation principles and educational techniques using the physical and cognitive abilities available to individuals.
This method has been proven to successfully engage persons with dementia and related disorders across all levels of dementia, as well as serving as a means of implementing person-centered approaches to care.
The first webinar "Creating Engagement & Purpose through Resident Committees" will take place on August 24, 2017, from 2-4pm EST. During this session, targeted at anyone wanting to offer true person-centered care, attendees will learn how to empower their residents to make collective decisions on matters that affect their everyday lives.
JoAnn Westbrook, Director of Education, explains: "We are excited to partner with Dr. Camp for this webinar series. His engagement programs offer tips and techniques that provide quality of life like no other, and this convenient webinar format will enable us to bring this critical information to caregivers and senior care professionals worldwide."
For more information about the seminars please visit https://goo.gl/W1u5uJ or call (941) 309-5750.
###
About Pines of Sarasota Education & Training Institute: Pines of Sarasota Education & Training Institute is the educational department of not-for-profit Pines of Sarasota Rehabilitation and Senior Care Community, providing cutting-edge, specialized education, outreach programs, support, and resources to family members and geriatric caregivers. For more information visit http://www.pineseducation.org.
About Cameron Camp:
Cameron J. Camp, Ph.D. (Director of Research and Development)is an internationally-known research scientist in the field of aging. He has been conducting applied and translational research in gerontology, dementia intervention, and cognitive intervention for over 30 years. He has been Principal Investigator on numerous NIH-funded projects, and served as research coordinator on several Small Business Innovative Research (SBIR) projects that have brought products to market. He is co-holder of two patents developed in SBIR projects, and has conducted research on interventions for persons with dementia and memory disorders for over 25 years. Dr. Camp has lectured on and trained the use of these interventions in Asia, Australia, Europe, and throughout North America. His writings in this area have been translated into French, Spanish, Greek, Korean, Japanese, and Mandarin. Dr. Camp recently served as President of Division 20 (Adult Development and Aging) of the American Psychological Association. Learn more at https://www.cen4ard.com.
About Pines of Sarasota: Pines of Sarasota Rehabilitation and Senior Care Community provides excellent and compassionate inpatient/outpatient rehabilitation services, skilled nursing, memory care, assisted living as well as educational programs for seniors and their families in order to help enhance their quality of life. Pines of Sarasota Rehabilitation and Senior Care Community epitomizes innovative initiatives including; an on-campus child care and learning center which fosters intergenerational interaction and learning; Falls Prevention Programs which help minimize the risk of falling and; a comprehensive Volunteer Program that supports every aspect of campus life. Pines of Sarasota Rehabilitation and Senior Care Community is a not-for-profit organization that leads the way in holistic senior care. Learn more at http://www.pinesofsarasota.org.