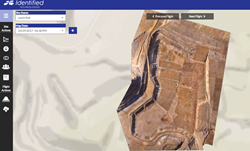 SSR has been able to save both time and money using drone technology
Pittsburgh, PA (PRWEB) August 16, 2017
Identified Technologies ("Identified"), the leading fully-managed commercial drone solution, has entered into a partnership with SSR Mining Inc. ("SSR"), whereby SSR is using Identified Technologies drone solution at its Marigold mine in Nevada. SSR is a Vancouver-based mining company focused on the operation, development, exploration and acquisition of precious metal projects.
Under this partnership, Identified Technologies provides SSR Mining Inc. with a commercial drone solution that can provide accurate information in a short period of time and the flexibility to get survey grade data for a wide variety of areas. For example, surveyors are updating the topography every week to measure mining progress, and mine operations executives are using 3D models in meetings to aid analysis work. In addition, multiple departments have used drone technology to make their work more efficient and accurate.
SSR has been able to save both time and money using drone technology. With traditional methods, it took 20 hours of surveying and processing labor to obtain a detailed survey of a specific section of the mine site. Using Identified Technologies' drone solution, the same results were achieved with 1 hour of work. This has allowed SSR to increase speed and productivity, without increasing staffing costs and headcount, while decreasing the frequency of its full site flyovers.
According to Dick Zhang, CEO of Identified Technologies, "Our clients often see 70% to 90% savings when using our services. The fact that SSR Mining Inc. was able to utilize this technology across so many different sections of the business is remarkable, and should set a new standard for productivity."
About Identified Technologies
Industrial leaders use Identified Technologies fully-managed commercial drone solution to increase project visibility and team productivity. Construction and excavation companies reduce their costs and win more business using job site data and analytics. Identified empowers ENR 400 companies, including PJ Dick, EQT, Vulcan and Casella, with the ability to track progress on highways, well pads, mines and landfills in near real-time. Identified's integrated software and services takes care of everything from FAA compliance and flight planning, to advanced analytics.
For more information about Identified Technologies, please see the Summary Video
Additional photos available upon request