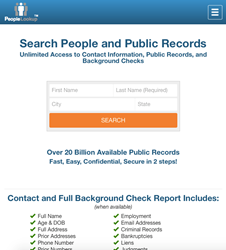 "Peoplelookup.com offers an inexpensive way to get fast, easy unlimited access to data anytime I want, directly from my phone," said Ava Hanson, Peoplelookup.com Customer
Seattle, WA (PRWEB) August 16, 2017
PeopleLookup.com recently launched with simple, fast, unlimited access to more than 20 billion records, making it easier to find people, addresses, contact information, public records, property records, criminal histories, and more, all in one place. In response to consumer demand for unlimited access to data, PeopleLookup.com offers a low-cost monthly subscription plan, in addition to three-month, six-month and twelve-month subscription plans, all of which give you access to unlimited background checks and contact information.
PeopleLookup.com aggregates data across a broad set of information and compiles it in one comprehensive report. Reports may include information such as full name, age and date of birth, address history, phone number history, email addresses, relatives, social profiles, neighbors, marriage and divorce records, criminal records, bankruptcies, liens, judgments and lawsuits, if available.
In addition to background checks and public record searches, you can use PeopleLookup.com to find a long-lost love, locate family members, check out an online date, look for addresses for invitations or cards, and verify buyers for personal online sales and transactions.
About PeopleLookup.com
PeopleLookup.com provides instant access to contact information, background checks and public records in one, easy-to-read report. PeopleLookup.com offers unlimited searches at affordable prices. Public record searches have never been so easy. Peoplelookup.com is headquartered in Seattle, Washington.
Media Contact:
Joni Hanson Davis
JumpstartPR, Inc.
joni(at)jumpstartpr(dot)pro