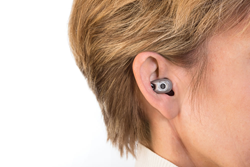 St. Louis Park, Minnesota (PRWEB) August 15, 2017
Harris Communications, Inc. is bringing its latest hearing loss solutions to the Hearing Loss Association of America's HLAA Twin Cities Living Well with Hearing Loss Conference, 9:30-2 p.m. Saturday, Nov. 18 at the St. Louis Park Recreation Center, 3700 Monterey Drive, St. Louis Park, Minnesota. Look for Harris Communications at tables 8 and 9.
During the conference, attendees can learn about hearing loss and how to deal with it. Visitors to the Harris Communications booth can try out and buy the latest assistive listening devices, including personal amplifiers, hearing loop drivers and neckloops, TV listening amplifiers, amplified and captioned phones and cell phone accessories. Tinnitus sufferers can check out Harris' newest sound therapy systems for masking tinnitus to help them drown out that annoying ringing in the ears and get a good night's sleep.
HLAA attendees also can see the latest alarm clocks and alerting systems for the hard of hearing and deaf, including the new affordable MyAlert™ alerting system from Silent Call. Harris Communications offers a variety of alarm clocks and wrist watches for the hard of hearing and deaf that wake even the deepest sleepers with vibration, loud audible alarms and/or light flash. Alerting systems are available to alert users to common household alerts, including doorbells/knocks, phone calls, kitchen timers, opened doors/windows, baby cries, smoke/CO detectors and weather emergencies.
Hearing loss experts from Harris Communications will be available to answer questions and provide unbiased advice. HLAA members receive a 20% discount from Harris Communications; some exclusions apply.
New Hearing Loss Products on Display at HLAA Twin Cities:
ListenTALK
ListenTALK is a two-way mobile communication system offering a personalized solution in environments where hearing is difficult, whether it's at home, work, or school. ListenTALK is more than a transceiver, it's an all-in-one device that facilitates communication and collaboration among two or more people in any setting with coverage up to 100 meters (328 feet) indoors and up to 200 meters (656 feet) outdoors. ListenTALK transceivers take less than a second to set up and pair.
MyAlert
Designed for affordability and reliability, MyAlert from Silent Call is one of the most economical alerting systems available for the deaf and hard of hearing. MyAlert alerts the deaf and hard of hearing to important household sounds including the telephone or video phone, smartphone, doorbell, baby cries, kitchen timers, and opened doors and windows. It alerts with flashing lights, vibration and loud sound. The system uses unique Multi-Code technology, which means no false flashing from a neighbor's system. Featuring 24/7 safe system supervision and class-leading range, MyAlert notifies users if any part of the system is not working. MyAlert includes a Digital Radio Frequency (DR-F) remote receiver that can be paired with up to four battery-powered transmitters (sold separately) and an optional bed shaker. A body worn wireless multi-function receiver is available. Each component is sold separately to minimize cost and allow users to customize their system.
HC-TV95RF Serene TV system
This new wireless radio frequency TV Listening System from Serene Innovations is one of the most economical and comfortable TV listening systems for the hard of hearing on the market. The lightweight receiver rests naturally on user's collar and is comfortable to wear, even after hours of extended wear. Users don't have to worry about heavy headsets pulling on their ears like with other systems. It has a 100 foot range and transmits sounds though walls and ceilings.
Panasonic Phones
The latest Panasonic amplified phones will be on display, including models HC-KXTGM450S, HC-KXTGM420W and HC-KXTGM430B. Panasonic amplified phones amplify speech and make it clearer with tone control and background noise reduction. They even make it easier to understand fast talkers with slow talk control. Loud visual ringers will alert users to phone calls. Panasonic's Link2Cell KX-TGM430B Amplified Bluetooth® Phone allows users to pair two Bluetooth cell phones.
Marpac Rohm Travel Sound Therapy Machine
This compact portable unit is designed to mask tinnitus and other sounds. Users can choose from three sounds: bright white noise, deep white noise, or gentle surf, to help them drift off to sleep. Rohm creates a soothing, consistent sound environment for sleep, privacy, or concentration. The Marpac Rohm Travel Sound Therapy Machine is just one of Harris Communications' full line of sound therapy machines and tinnitus maskers.
Sennheiser HC-RS2000 TV Listener
The new Sennheiser RS 2000 wireless TV Listener delivers quality sound directly to users' ears without disturbing others. The RS 2000 provides up to up to 125dB SPL of amplification and allows users to adjust the volume for the left and right ear independently. Its ultralight wireless headset has a range up to 150 feet, allowing users to get snacks or do housework without missing a word. Up to nine hours of use per charge makes it easy to binge watch favorite shows.
Celebrating 35 years in business in 2017, Harris Communications provides more than 2,000 solutions for all levels of hearing loss. Learn more at http://www.harriscomm.com, or call 952-388-2152 (video phone) or 877-539-7445 (voice) to request a catalog.
Learn more about the HLAA Twin Cities Conference at http://www.hlaatc.org.
About Harris Communications, Inc.
Based in Eden Prairie, Minnesota, Harris Communications, Inc. is a leading supplier of hearing loss solutions for people with all levels of hearing loss. Since its founding in 1982 by Dr. Robert Harris, himself a member of the Deaf community, Harris Communications has helped millions of Deaf and hard of hearing customers enjoy their lives to the fullest by providing expert advice and a wide range of more than 2,000 assistive devices and educational resources. The company's product line includes alerting devices, phone and TV amplifiers, personal amplification systems, tinnitus maskers, books and media and much more. Harris Communications also supplies ADA compliance products and hearing protection equipment.