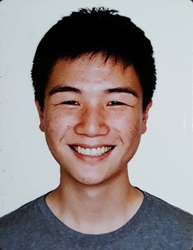 Yorba Linda, Ca (PRWEB) August 16, 2017
LabRoots, the leading provider of educational and interactive virtual events for tech innovators, engineers, and scientists from around the world, is excited to announce Andrew Ly as the winner of the LabRoots Summer Textbook scholarship, awarding him $1000 to support him in his academic pursuits, covering textbook costs.
Ly, who is in his third year at the University of California, Los Angeles majoring in microbiology, immunology, and molecular genetics, has been involved as a student researcher at UCLA, working on elucidating the roles of various proteins in infection by murine gammaherpesvirus-68 for use as a therapeutic gene delivery vector. After graduation, Ly hopes to pursue a doctorate degree and a career in research and teaching.
Outside of his academic pursuits, over the past year Ly was a board member of UCLA's Circle K chapter, has served as the Kiwanis Family Youth Chair, and participated as a member of Vietnamese Community Health at UCLA, an organization devoted to providing free medical screenings to underserved communities in Southern California.
With thousands of applicants in the inaugural year for the LabRoots scholarship program, this summer scholarship was open to a world-wide student audience from high school seniors, undergraduate and graduate students. Applicants were each pursuing a degree in the life sciences from universities from around the world. The scholarship will aid Ly in funding of textbook costs associated with his academic pursuits.
LabRoots has always encouraged digital innovation to further scientific collaboration and learning. Through this scholarship program, LabRoots wishes to encourage all students to seek an education in science and will help students work towards their educational goals. With the close of its spring scholarship, LabRoots is also opening up the application period for their Fall STEM Scholarship, awarding a worthy student $2,000. Interested students can apply here.
ABOUT LABROOTS
LabRoots is the leading scientific social networking website, which provides daily scientific trending news and science-themed apparel, as well as produces educational virtual events and webinars, on the latest discoveries and advancements in science. Contributing to the advancement of science through content sharing capabilities, LabRoots is a powerful advocate in amplifying global networks and communities. Founded in 2008, LabRoots emphasizes digital innovation in scientific collaboration and learning, and is a primary source for current scientific news, webinars, virtual conferences, and more. LabRoots has grown into the world's largest series of virtual events within the Life Sciences and Clinical Diagnostics community.