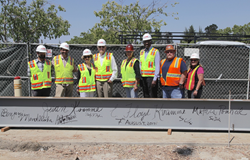 It was an amazing day for the project and a very special touch to this beautiful building. Aditya Thakur, Project Manager with Gilbane
Saratoga, California (PRWEB) August 16, 2017
Gilbane Building Company, a national leader in construction management, was happy to celebrate a major milestone at the site of the West Valley College Kvamme Planetarium project in Saratoga, CA. The steel topping off ceremony was attended by representatives from West Valley - Mission Community College District, college staff, Mr. and Mrs. Kvamme, for whom the planetarium is named, BHM Construction, Rackley Steel Erectors and representatives from Gilbane.
Gilbane is providing construction management services for West Valley Mission Community College District's Kvamme Planetarium. A major portion of the project funds have been donated by Jean and Floyd Kvamme. The project includes a 42 feet projection dome with a star projector and digital planetarium projectors, theater seating and a Roof Observatory with telescopes and live sky cams. The new environment will provide an immersive experience and the adjoining museum will contain fixed and rotating exhibits.
"Gilbane's focus has been to exceed schedule expectations, which results in constant streamlining and a very dynamic sequencing of operations", says Aditya Thakur, Project Manager with Gilbane, "I am very happy that everyone was able to make this event happen on such short notice. It was an amazing day for the project and a very special touch to this beautiful building. It was especially nice to see the pride and excitement expressed by Jean and Floyd Kvamme, it was truly a special day."
"This is an exciting culmination of three years of intensive planning for this technically robust building!" says Gaye Dabalos, Director of Facilities construction for the District.
About Gilbane Building Company
Gilbane provides a full slate of construction and facilities-related services – from pre-construction planning and integrated consulting capabilities to comprehensive construction management, general contracting, design-build and facility management services – for clients across various markets. Founded in 1873 and still a privately held, family-owned company, Gilbane has more than 50 office locations around the world.