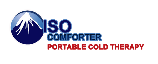 Palm City, Florida (PRWEB) August 15, 2017
IsoComforter, Inc., one of the Nation's premier providers of cold therapy products, announced today the introduction of the innovative new 10x10 bladder pad (isocomforter.com/product/10x10-sterile-pad/). The newly designed bladder pad has been specifically created for post-operative patients. The plush design enhances comfort and enables the patient to enjoy the benefits of cold therapy while resting, sitting, or standing.
Hundreds of thousands of orthopedic surgeries are done every year. Cold therapy is the best method for reducing pain, swelling, and edema and cold therapy systems are the method of choice for physicians and orthopedic surgeons world-wide. The benefits of cold therapy are numerous. A consistent, therapeutic, longer lasting cold temperature using a specialized larger bladder pad that conforms to your body, allows the therapeutic cold to reach the specific affected area. This helps ensure that the surgical site receives better coverage for a faster recovery with less pain and swelling.
The innovative design of the Iso-10x10 bladder pad was designed in conjunction with orthopedic surgeons to deliver the highest quality cold therapy in the industry.
To learn more about IsoComforter's quality products, visit our website at http://www.isocomforter.com.
About IsoComforter:
Since 2000, IsoComforter, Inc. has been committed to providing the highest quality product possible, through our highly skilled and dedicated employees and state-of-the-art and patented products. This commitment to quality is what makes IsoComforter stand out ahead of our competitors and enables us to deliver quality products to our customers. IsoComforter is located in beautiful South Florida and manufactures and delivers quality products nationwide.
Contact Details:
IsoComforter, Inc.
4215 SW High Meadows Avenue
Palm City, Florida 34990
Phone: 1-877-277-0367
Fax: 1-772-220-6645
Source: IsoComforter, Inc.