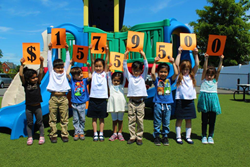 HOBOKEN, N.J. (PRWEB) August 17, 2017
Apple Montessori Schools is proud to aid the mission of Ronald McDonald House Charities (RMHC) of the New York Tri-State Area through its annual school-wide donation program.
Since 2011, Apple Montessori's 15 preschools in New Jersey have worked together to raise an average of $20,000 per year through the Spring Olympic Day Fundraiser and generous donations from the Bailey Family, the founding family of Apple Montessori Schools.
Over the last year, Apple Montessori has raised more than $31,000 and donations have now totaled $157,595.
Donations are used to support RMHC of the New York Tri-State Area's grants to five Ronald McDonald Houses in the New York metropolitan area, which are homes away from home for the families of seriously ill, hospitalized children.
Spring Olympic Day is a fun day of relay races and obstacle courses for the children at Apple Montessori. But more importantly, it teaches them valuable lessons about compassion and generosity.
"The work that RMHC does to help families through such difficult times is so important," said Joanne Mooney, President of Apple Montessori Schools. "Children are miracles, and we are proud to do our part to ensure they feel cared for, supported and safe."
The relationship between Apple Montessori Schools and Ronald McDonald House Charities has grown to be mutually beneficial.
"We are thankful for the continued support of The Bailey Family and the entire Apple Montessori Schools community," said Christopher Perry, RMHC New York Tri-State Area's Executive Director. "Their generous contributions will make a significant difference in the lives of children and families that we serve."
About Apple Montessori Schools: Family owned Apple Montessori Schools have inspired a love of learning for over 40 years. The infant, toddler, preschool/kindergarten, and elementary programs are not only child-inspired, they are research-proven. Apple Montessori also offers before and after school daycare. Their mission is centered around nurturing the whole child intellectually, socially, emotionally, and beyond. The school recognizes that no two children are the same, and cultivates the unique potential of each and every child in a caring, safe, and supportive school environment. Schools are located in Cliffside Park, Edgewater, Edison, Hoboken, Kinnelon, Mahwah, Metuchen, Morris Plains, Oakland, Randolph, Towaco, and Wayne. See how the Apple Montessori difference can benefit your child by visiting http://www.applemontessorischools.com.
To learn more about Apple Montessori Hoboken locations, visit our website at http://www.applemontessorischools.com or schedule a tour with our Hoboken school at (201) 222-1464 (south) or (201) 963-4949 (north).
About Ronald McDonald House Charities New York Tri-State Area: Since 1992, Ronald McDonald House Charities New York Tri-State Area has been creating, finding and supporting programs that directly improve the health and well-being of children. The organization provides needed support to 5 Ronald McDonald Houses, which are "homes away from home" allowing families to be with their hospitalized children for extended periods of time. The organization also provides scholarships to help provide access to a college education for students who need and earn it, and community grants to support a variety of local children's charities in the areas of medicine, crisis intervention, civic and social services, education, and the arts. For more information, please visit http://www.rmhcnytristate.org or contact 732-623-8639.