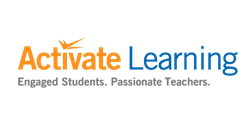 Our combined company will continue to be at the forefront of STEM education...
GREENWICH, Conn. (PRWEB) August 16, 2017
Activate Learning, a leader in K-8 science curriculum aligned with Next Generation Science Standards (NGSS), announces today it has acquired IT'S ABOUT TIME, a global leader in research-based Science, Technology, Engineering, and Mathematics (STEM) curricula for K-12 and college students. The combined company will continue to partner with school districts, offering the highest quality, classroom tested solutions to support teachers and build students' higher order thinking skills and content knowledge.
Activate Learning is searching for additional acquisitions in the STEM curriculum market and related segments.
"Both of our companies have similar philosophical and pedagogical approaches to STEM education and are leaders in our respective areas," said Eric Johnson, CEO of Activate Learning and a 20-year veteran of the industry. "Together, we're committed to meaningful learning experiences that combine effective hands-on investigations and interactive digital content to prepare students for the next stage in their education."
Tom Laster, co-president of IT'S ABOUT TIME added: "Our combined company will continue to be at the forefront of STEM education and further advance teaching and learning. Higher education institutions and employers need graduates who can tackle real-world challenges that often cut across disciplines."
"We are excited to join forces with Activate Learning to partner with educators. Together, our solutions provide authentic and sustainable STEM education, engaging students and supporting teachers' passions," said Laurie Kreindler, co-president of IT'S ABOUT TIME.
Activate Learning has doubled its sales in the past year through its award-winning programs. The company specializes in phenomena-based, student-driven learning in science for grades K-8. Its curricula integrate reading, writing, talking, and "doing" science in every lesson and connect ideas from lesson to lesson and to out-of-class experiences. The acquisition expands the company's product line to include the world-renowned solutions from IT'S ABOUT TIME to span the entire K-12 STEM curriculum and college pre-service science teaching. The combined company's solutions have empowered more than 2 million students and teachers across the United States and globally.
Developed through National Science Foundation grants and rigorous research, IT'S ABOUT TIME programs are modeled on the way scientists, engineers and mathematicians work, and emphasize project-based learning and evidence-based reasoning. Tom Laster and Laurie Kreindler will continue to serve active roles in the combined company. Laster and Kreindler founded IT'S ABOUT TIME more than 20 years ago with the goal of helping every student have access to high-quality science, mathematics, and engineering curriculum.
Activate Learning plans to continue expansion through additional acquisitions in STEM education and related market areas. The company's majority investor is Palm Ventures, a private investment firm focused on investing long-term patient family capital in partnership with management that has deep education experience and is committed to improving STEM education in the United States.
About Activate Learning
Activate Learning is a leading provider of investigation-centered, K-14 science curricula. The curricula were developed in partnership with leading universities through grants from the National Science Foundation. To learn more, visit activatelearning.com, or contact the company at info@activatelearning.com or (646) 502-5231.
About Palm Ventures
Palm Ventures is a Greenwich, Connecticut, based private investment firm focused on investing long-term patient family capital in partnership with management teams across the full investment spectrum including start-ups, growth capital, restructurings and buyouts. Over a 25-year period, Palm Ventures has invested in more than 60 businesses in numerous industry segments, with a particular focus on education and other businesses that have a positive social impact. For more information, visit palmventures.com.