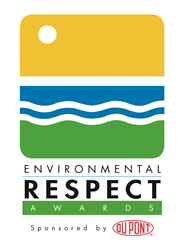 Willoughby, Ohio (PRWEB) August 16, 2017
MFA Agri-Services received the award during a special ceremony at the Hotel du Pont in Wilmington, DE, (USA) Thursday July 20,2017.
The outlet was originally opened in 1956, and has continued to upgrade to constantly maintain stewardship in this town of 4,000. Among the upgrades were the building of a new maintenance shop to service equipment and keep its dry fertilizer under a roof. To further protect the area's watershed, MFA Centralia insists on using automatic shut-off valves and direct-injection systems on its sprayers
"DuPont is pleased to congratulate the winners of the 2017 Environmental Respect Awards and applauds their accomplishment in environmental stewardship," said Tim Glenn, president, DuPont Crop Protection. "These leaders are helping to advance environmental safety as well as the safe use of agricultural products. We hope they will inspire others who share our passion and commitment to elevate environmental stewardship around the world."
"I am flattered that our location was named the North America Ambassador of Respect for 2017," said the outlet's Brad Toedebusch, accepting the award. "Our company has always worked hard to achieve environmental and safety respect in our operations and it's nice to be recognized for these efforts, many of which come from the input of our employees."
The Environmental Respect Awards, sponsored by DuPont Crop Protection, CropLife® magazine and AgriBusiness GlobalTM magazine, honor outstanding environmental stewardship among those who supply farmers with inputs that are critical to safe and effective crop production globally. The winners exemplify environmental care in areas including security, risk management, product handling and use, worker safety, and education and outreach to their communities.
2017 marks the program's 27th year honoring the stewardship, sustainability, safety, and community outreach efforts of the world's leading agricultural retailers and distributors. In all, 15 companies were honored with regional awards for their outstanding commitment to environmental stewardship. Ambassadors received special honors as the best of the best in their respective regions.
For 17 years, Paul Schrimpf, Executive Editor of CropLife® and AgriBusiness GlobalTM magazines, has led the program's judging process and development. He has been both impressed and inspired by the continuous improvement displayed over his nearly two decades of involvement. "The deliberate and conscientious efforts of these ag businesses toward improving environmental stewardship and safety at their facilities helps to ensure employees, communities, and the environment at large are protected, and that their businesses are sustainable and thriving," Schrimpf said. "We're delighted to recognize their excellence."
Find more information on the Environmental Respect Awards at http://www.EnvironmentalRespect.com.
# # #
For 27 years, the Environmental Respect Awards have been the foremost distinction in stewardship among agricultural retailers and distributors worldwide. Since its inception in 1991, more than 6,500 businesses in the U.S. and Canada have shared their stories of environmental stewardship, sustainability, product safety standards, and customer and community outreach. Approximately 700 have earned state/provincial awards. Over the past 12 years, the international extension of the Environmental Respect Awards has seen participation from more than 550 businesses in 33 countries. ERA 2017 marks the continuation of a fully integrated global selection and recognition process. The program is sponsored by DuPont Crop Protection and is managed and conducted by CropLife® magazine and AgriBusiness GlobalTM magazine, Meister Media Worldwide publications.