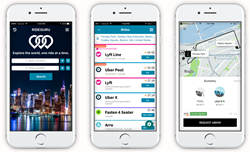 Most travelers compare the costs of airfares, hotels, and car rentals. We want to bring the same philosophy to rideshares
Boston, MA (PRWEB) August 22, 2017
Calling all travelers! This innovative rideshare search engine saves you time, money, and energy.
RideGuru, the rideshare comparison app, is now available for iPhone and iPad users. Powered by the popular travel website, RideGuru, the RideGuru mobile app is a search engine for rideshares and other on-demand ground transportation services. Users can compare costs of various rideshares and taxi services worldwide, then hail their desired car straight from the app.
Since RideGuru's release in September 2016, the site has stood out as the aggregator of taxis, limos, and rideshares. Not only does RideGuru compare large on-demand car services such as Uber and Lyft, it also scours rates from hundreds of smaller services to bring the user an array of travel options. Through its vast support of all rideshare, taxi, and limo companies worldwide, users will feel secure in finding a local ride even if their destination is off the beaten track.
Ippei Takahashi, the CEO/President of Unleashed, LLC, states, "Thanks to the adoption of on-demand economy, there has never been so many ride options available. There are great offerings out there, but unfortunately, the consumers are either not aware of them or lack the visibility into the services they have access to. That's what we are trying to fix with RideGuru: provide visibility to the users and encourage competition between the providers."
Lillien Kenyon, the business and operations lead at RideGuru, adds "Most travelers compare the costs of airfares, hotels, and car rentals. We want to bring the same philosophy to rideshares, saving travelers both time and money."
The RideGuru app supports more than 100 rideshare services from companies such as Uber, Lyft, Juno, Grab, Curb, Fasten, Wingz, and Zum. Users can filter the choices, by entering number of passengers, car type, accommodations, and other specialty features, such as rideshares for women and children or "shared rides" like UberPool and Lyft Line.
Once users have made their selection, they can dispatch the ride from Uber or Lyft directly, with similar dispatch support coming soon for other rideshare companies.
RideGuru is known to be the most robust rideshare comparison tool in the world. To learn more about RideGuru's groundbreaking fare comparison technology visit RideGuru.
About RideGuru
RideGuru, a product of Unleashed, LLC, is an all-inclusive rideshare and taxi information source. RideGuru is not another transportation service, instead, it is a search engine to help you find the best ride from point A to point B. It scours rates from hundreds of services worldwide to bring you the best deals.
About Unleashed, LLC
Unleashed, LLC is a Boston-based technology company that specializes in creating websites and smartphone applications to provide users with the information they need for daily decisions. The company is best known for creating the popular travel site TaxiFareFinder.com. TaxiFareFinder, released in 2007, is an online resource for all things related to taxis and rideshares. TaxiFareFinder is best recognized for its groundbreaking, location based, taxi and rideshare fare calculators.