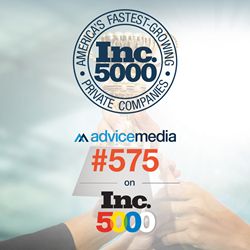 "We are honored to be included in the Inc. 5000 rankings for the second year in a row." - Shawn Miele, CEO
(PRWEB) August 17, 2017
Advice Media, the industry leader in digital marketing for medical practices, has been recognized as one of the fastest growing privately held companies in North America and has been included in the Inc. 5000 for the second time in two years. Shawn Miele, Chief Executive Officer of Advice Media, said, "We are honored to be included in the Inc. 5000 rankings for the second year in a row. It's extremely difficult to make this list once. The fact that we made it in 2016 and again in 2017 shows the success of our model. I'd like to thank our team members for making our clients lives better. I'd like to thank our clients for trusting us to perform important digital marketing services for them. Without the trust of our clients and the relentless effort of our team members, we would not have won this award."
Advice Media makes money for its clients and helps them to grow by implementing digital marketing strategies that match the goal of each practice. Advice Media is a full-service digital marketing organization specializing in search engine optimization, social media, reputation management, video content, website design-development and more for medical and dental practices. The company services over 1500 clients in more than 30 different medical specialties throughout North America.
In 1982, Inc. introduced the Inc. 500 list of the fastest-growing privately held companies in the United States. Since then, this prestigious list of the nation's most successful private companies has become the hallmark of entrepreneurial success and the place where future household names first make their mark. Pandora, 7 Eleven, Toys 'R' Us, Zipcar, Zappos.com and numerous other well-known brands have been honored by the Inc. 5000. In 2007, the Inc. 500 list expanded to the Inc. 5000, giving readers a deeper, richer understanding of the entrepreneurial landscape and capturing a broader spectrum of success.The Inc. 5000 ranks companies by overall revenue growth over a three-year period.
About Advice Media LLC
Since 1998, Advice Media has provided healthcare professionals comprehensive digital marketing services to help them expand their practices and attract new patients. An integrated strategy encompasses website design and management, mobile readiness, procedure video content, email marketing, SEO, SEM, social media, directory services, blogs, reputation management, website video and the ability to track and monitor performance of these services. The company has offices in Park City, UT, Melville, NY, Houston, TX, Los Angeles, CA, & Philadelphia, PA. For more information, visit http://www.advicemedia.com.