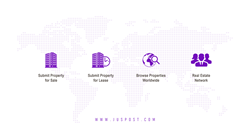 Juspost.com is the perfect ecosystem that connects real estate-related professionals from around the world.
New York, New York (PRWEB) August 16, 2017
A new network aiming to connect the International Real Estate Industry will launch its online site Wednesday, August 16, 2017 at 12PM EST.
The real estate industry is the most competitive industry on earth. It has literally transformed our ecosystem. Many tech and networking companies, including real estate-related agencies, associations and MLS providers have been competing over market share for years now. However, not one of them have come close to creating a business model or an application that truly integrates the World Real Estate Complex.
JUSPOST.COM is an American Networking Company that knows a thing or two about international real estate and the online grid.
When asked what inspired him to launch the network, 32-year-old Founder Haxhi Rugova said, the "global real estate industry is built on relationships, and the only thing it was lacking was a dedicated online network." Bringing over a decade of commercial real estate experience to the company, Mr. Rugova felt now was a perfect time to positively reshape a "prehistoric" industry.
With ambitious plans to connect the online real estate world and steer the industry towards eco-friendly development, JUSPOST.COM could easily become the most powerful network on Earth.
Last month on July 20, 2017, the robust network rebuffed its launch date due to a bug within its search filters. Now, that they've resolved this issue, JUSPOST.COM officially announced that the launch of the World Real Estate Network is set in stone and geared towards revolutionizing the industry.
Brokers, agents, developers, investors, lenders, appraisers, attorneys, architects, engineers, and property managers from all sectors of the real estate world will be invited to join JUSPOST.COM on the above-referenced date. Each user will be offered a one-week free trial with a monthly, quarterly or yearly membership plan to select from if they wish to continue using the multifaceted network.
About Juspost
JUSPOST.COM is "The World Real Estate Network" enabling commercial real estate markets from around the world to connect simultaneously into a single network. Users will be able to conveniently market, browse and advertise their real estate properties and related industry services worldwide.
For more information, please contact
April Jennings
Juspost, Inc.
T: (888)694-7678
F: (888)694-8697
E: a.jennings(at)juspost(dot)com
juspost.com
Twitter: https://twitter.com/Juspost_
LinkedIn: https://www.linkedin.com/groups/13524511
Google+: https://plus.google.com/u/0/101521661355412565251
You Tube: https://www.youtube.com/watch?v=ypZ4XMj1uzE