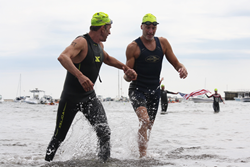 September brings several outdoor charity events and parties for the Cape Cod native or visitor while October ushers in creative festivals and art shows.
Provincetown, MA (PRWEB) August 16, 2017
As summer hands off the baton to the fall season, Provincetown is setting up for a jam-packed season. With cool ocean breezes and a full lineup of exciting activities, autumn is the perfect time to visit Provincetown. September brings several outdoor charity events and parties for the Cape Cod native or visitor while October ushers in creative festivals and art shows.
The Provincetown White Party (September 2) kicks off the festive fall season on Labor Day Weekend. The annual extravaganza doubles as a fundraiser for Outer Cape Health Services, as Provincetown natives and out-of-towners don their most lavish white outfits. The party continues at Tea Dance, a daily outdoor dance party hosted at the Provincetown Boatslip Beach Club.
September in Provincetown boasts a slew of festivals and charity events. For some family fun, check out the Great Provincetown Schooner Regatta (September 4-7). An educational and sailing event, the Regatta honors Provincetown's history as a traditional fishing port and celebrates the area's striking natural resources. Come for the educational events throughout the week and stay for the annual schooner race, where sailors compete for the honor of the Fisherman's Cup. Visitors can view the thrilling races from the water in spectator boats or at spots throughout town.
The 24th Annual Celebration of Life Concert (September 8) and the 30th Annual Swim for Life & Paddler Flotilla (September 9) are quintessential Provincetown events that bring the community together each year. Celebrating its 30th year, Swim for Life was born during the heart of the AIDS crisis. Last year, the charity event featured 400 swimmers and since its inception it has raised over 4 million for AIDS, women's health, and the Provincetown community.
"The Swim for Life in Provincetown is an American story. When people gather with passion and vision great things are accomplished, despite government inaction. Provincetown Harbor lured us into its embrace and cleansed us of our pain and loss," said Jay Critchley, Founder of Provincetown Community Impact and Swim for Life producer.
Fall in Provincetown is bursting with creativity. The Sixth Annual Afterglow Festival (September 11-17) is a performing arts festival featuring original new artists as well as seasoned fan-favorites. For theater aficionados, the Provincetown Tennessee Williams Theater Festival (September 21-24) is not to be missed. This year, the festival will present plays by two playwriting greats: Williams and Shakespeare. The always-innovative roster includes Hamlet: Tragedy at Sea—a South African production, which will be performed a shallow tank of water at the Wharf House at Provincetown Marina.
The 34th Annual Women's Week (October 9-15) is the largest cultural gathering of lesbian and queer women. During this weeklong festival, women flood Commercial Street for music, dancing, comedy shows and outdoor activities. For Women's Week 2017, fan favorite events will return, including the community dinner hosted by the Women Innkeepers of Provincetown (October 10) and the annual Football Game hosted by Kate Clinton (October 12). Already on the 2017 roster at the Crown and Anchor are comedians Karen Williams, Vickie Shaw, and Julie Gold as well as musicians Suede, Julie Wheeler, and Karen Grenier. On the heels of Women's Week is Fantasia Fair (October 15-22), the longest-running conference for transgender and gender non-conforming people. This weeklong celebration of gender identity is packed with workshops, fashion and talent shows, and special events. Don't miss your chance to experience the beauty of Provincetown in the fall.
About Provincetown
Provincetown, Massachusetts is a true melting pot. Located on the tip of Cape Cod, Provincetown boasts beautiful beaches, Zagat-rated restaurants, art galleries and charming shops. A top LGBTQ destination, this open-minded community celebrates individuality and freedom of expression. Provincetown has a rich creative history and is home to one the oldest continuous art colony in the country. The diverse population of artists, sailors, fishermen, authors, and more, makes Provincetown unique. From Carnival in August to Women's Week in October, Provincetown is thriving 365 days of the year.