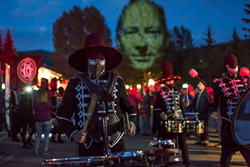 "Although a lot of guests staying with us throughout the festival seem to be most hyped about the Monuments installment, this is just one of many on the expansive list of exhibits and activities scheduled for this year!"
Breckenridge, Colorado (PRWEB) August 16, 2017
Having a big hand in Breckenridge recently being named one of the country's "artsiest small towns" by Westword Magazine(1), the 2017 Breckenridge International Festival of Arts (BIFA) has returned for its third season. Stretching over a 10-day time span, this quirky, one of a kind display of assorted visual, musical and interactive exhibits has quickly become one of Breckenridge's most popular festivals… Rounding out a Summer packed full of them! "We really like the idea of closing the summer with a big, spectacular multi-arts festival" Robb Woulfe, president and CEO of Breck Create told the Summit Daily in 2016(2).
A program of extraordinary events in spectacular places and spaces across Breckenridge, this multi-arts festival is a celebration that brings with it an eclectic mix of music, dance, film, visual arts, abundance of family entertainment and so much more! And this year, the festival promises to be bigger and better than ever. Beginning with the chief installment, Monuments, presented by internationally acclaimed projection artist Craig Walsh. Already an internet sensation, Monuments is a tribute to three Breckenridge characters (changing nightly) that have shaped Breckenridge to date by casting oversized projections of their faces across strategically selected topiaries throughout town. Although many of the Breckenridge International Festival of Art's displays and exhibits will be temporary, this one will span throughout the length of the festival, lighting up nightly.
"Although a lot of guests staying with us throughout the festival seem to be most hyped about the Monuments installment, this is just one of many on the expansive list of exhibits and activities scheduled for this year!" says Tiana Wales, General Manager of popular Breckenridge lodging company Ski Country Resorts. And she's not wrong! A celebration of adventure, play and creativity, guests and locals alike will enjoy multiple daily attractions and events throughout Breckenridge inspired by themes of environment and mountain culture (most free, some ticketed). From Close-Act Theatre's Birdmen, a spectacular piece of street art theatre featuring stilt-walkers outfitted as large, illuminated pterodactyl-like creatures descending upon downtown Breckenridge to the interactive, kid-friendly performance titled Ants, by Polyglot Theatre, that brings children face to face with three giant ants and hundreds of giant bread crumbs and the query of what to do with them. A quick glance at the schedule and it's clear, a large focus this year is children. From a Nature Discovery Walk with the Mountain Top Children's Museum and Birdwatching with Keystone Science School to planting an herb garden, building a birdfeeder and bug home to creating a Mountain Mosaic, painted 'gnome rocks' and Beeswax + Pine artwork no doubt the festival is going to be jam packed with activities for the youngsters.
And then there's the popular Trail Mix Series. A kid and adult friendly activity that has been a hit in past years. These free outdoor concerts and environmental installations combine art, music and hiking/biking along well-known Breckenridge trails. This year's schedule includes 27 of these pop up performances along the popular Iowa Hill, Moonstone and Illnois Creek Trails.
Other featured 2017 BIFA artists and projects include: Los Trombos, colorful, large scale sculptures on display on the Arts District Campus. Driftwood by Casus Circus, a performance of seemingly impossible feats of brute strength. Itchy-O, a 30-plus-piece marching band drawing its inspiration from several different cultures. Tree-O, a series of concerts held high among the pine branches.