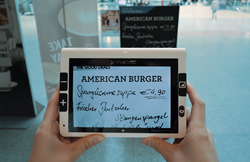 I can't count the number of times TVI's have [asked for] a tablet-size video magnifier with OCR and speech. . .
Boston, MA (PRWEB) August 17, 2017
Boston, MA-based BAUM (USA) Inc. announced this week that they have partnered with Zoomax to bring their revolutionary low vision product called Snow 7 HD Plus Handheld Video Magnifier, to people in the United States with vision impairment. Snow 7 HD Plus is a tablet-sized electronic magnifying device that can actually read printed text aloud to people with low vision or who are legally blind.
Handheld video magnifiers are not new but this is the first time a product has been available in the US that is small enough to fit in a purse or the front pocket of a backpack but still offers the user high-definition magnification for near and far — and built-in OCR for text-to-speech too! Snow 7 HD has an integrated 7" TFT LCD screen that's touch sensitive and lets the user pan around captured or frozen images intuitively by moving their finger across the screen. Up to 1,000 images can be captured live or transferred to and from a computer, a feature and capacity that teachers of the visually impaired have been wanting for a very long time.
When asked about the partnership, BAUM USA President, David Bradburn said, "I can't count the number of times TVI's [teachers of the visually impaired] have asked us during presentations if we had a tablet-size video magnifier with OCR and speech, and my team is excited to say this year, that we do. Snow 7 HD with Speech is a unique product that's well-made and now backed by BAUM USA's money-back guarantee and locally-supported warranty."
Rebecca Chen, CEO of Zoomax added, "We're very proud of what we created with Snow 7 HD Plus and very happy with all of the features we were able to include for such a competitive price. I know BAUM USA is going to do a great job supporting Snow 7 HD Plus users and couldn't be more pleased with this new partnership to bring this great product to the United States."
Snow 7 HD Plus is priced very competitively at $879 without OCR and speech. The premium model with OCR and speech is equally competitive at just $979. It's available in the US, exclusively from BAUM USA. For more information about Snow 7 HD Plus, visit: http://www.BAUMUSA.com/snow-7-hd-handheld-video-magnifier-ocr-tts or or call 855-620-7985 to speak to an assistive technology specialist right away. To learn more abut BAUM USA and their entire line of unique assistive technology products for people who are blind or have vision impairments, visit: http://www.BAUMUSA.com. Information about Zoomax and the products they engineer, please visit: http://www.Zoomax.co
BAUM (USA) Inc. is a US corporation based near Boston, MA. They are part of the BAUM Retec AG family of companies. BAUM Retec AG is headquartered in Germany, and has other subsidiary companies in Austria, the UK, France, Switzerland, Romania, and Belgium. All BAUM companies are driven by an approach that questions the status quo, and believes passionately in their mission to reinforce success and support independence for people who are blind or visually impaired the world over.