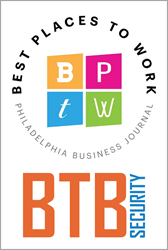 ...We pride ourselves on integrity, teamwork, and devotion. Most importantly, we respect what makes us truly successful: our people.
Philadelphia, PA (PRWEB) August 16, 2017
The Philadelphia Business Journal has named BTB Security as one of the Best Places to Work in the Philadelphia region, awarding the information-security assessment, detection, and incident-response firm with honors in the "Small Company" category. The award recognizes the company's achievements in creating a positive work environment that attracts and retains employees.
Each year, the Philadelphia Business Journal teams with Quantum Workplace to find the very best workplaces in the region based on hundreds of online surveys completed by employees to establish rank order. According to Quantum, "While many awards programs remain subjective, ours has been scientific since day one. In fact, we were the first to utilize a full-blown employee engagement survey as the sole scoring mechanism. Our survey was developed by some of the most brilliant minds in survey research methodology and organizational psychology, and we update it regularly to make sure it stays relevant."
"For 2017, we had a record number of applications for Best Places to Work and every company included had to reach a scoring benchmark to be included. It's not an easy benchmark to meet, said Craig Ey, editor of the Philadelphia Business Journal.
"We have always placed a strong emphasis on attracting the right talent and mentoring them. To do this, we strive to treat all our employees fairly. We provide them with the autonomy and flexibility they need to do meaningful work. In return, our employees have recognized us as with this honor," said Ron Schlecht, Managing Partner at BTB Security. "Receiving the prestigious Best Places to Work award tells the business community that we remain true to our core values. We pride ourselves on integrity, teamwork, and devotion. Most importantly, we respect what makes us truly successful: our people."
One BTB employee survey was quoted to saying, "BTB is the best work environment I have ever encountered, encouraging fun, contribution and camaraderie at all levels of the company. Our managing partners challenge us each day to be our best, and they fully recognize our contributions, in word and in deed. Smart people, working together in a very fun space. On top of that, the professional and expert level services we deliver each day are recognized by our customers as being superior to the competition."
About BTB Security
BTB Security helps organizations worldwide detect, defend and defeat security breaches. From ethical hacking and vulnerability assessments to comprehensive managed security services programs, incident response and forensic analysis, our solutions are designed to provide comprehensive security to organizations of all sizes. For more information, visit http://www.btbsecurity.com and follow us on Twitter, LinkedIn, and Facebook.