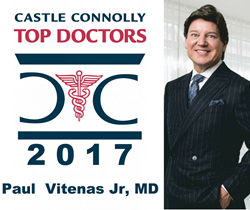 Houston, TX (PRWEB) August 16, 2017
Paul Vitenas, MD, FACS, is honored to announce that he has been named as a Castle Connolly 2017 Top Doctor. The annual list identifies the nation's top physicians, in a variety of specialties. This marks the fourth year in a row that Dr. Vitenas has made it to the top of Castle Connolly's coveted ranking.
Castle Connolly is the nation's trusted provider of information on the most elite doctors, offering detailed profiles of more than 50,000 outstanding physicians across the United States, spanning a range of medical specialties. Founded in 1991, Castle Connolly is the leading digital and print provider of information about top doctors, working with more than 50 city and regional magazines, newspapers, digital health companies and employers.
Every year, hundreds of thousands of nominations for the Castle Connolly Top Doc title are submitted online by physicians, identifying other doctors whom they believe to be clinically outstanding. Castle Connolly's physician-led Research Department then conducts a rigorous review of all nominated doctors, examining education, training, hospital affiliations, professional accomplishments and experience, before selecting the most qualified physicians as Castle Connolly's Top Doctors. Physicians cannot and do not pay to be selected in this process.
As the founder of Vitenas Cosmetic Surgery, Dr. Vitenas has been awarded a myriad of illustrious awards over his 30-year carrier. Most recently he was named the Top Board Certified Doctor by Modern Luxury Magazine, received the City Beat News' Spectrum Award for Excellence and earned a place as one of the RealSelf 100 Top Cosmetic Surgeons. Along with Dr. Vitenas' team of aesthetic professionals, Vitenas Cosmetic Surgery has also been ranked as a Top Clinic by the Top Choice Awards.
Dr. Vitenas' four years of consecutive inclusion as a Castle Connolly Top Doctor reflects a dedicated career in plastic surgery. He explains, "I have spent my entire career delivering natural results to patients who have wanted to have aesthetic surgery." Dr. Vitenas then continues, "That softness, that proportionality, that innate beauty all human beings possess is what I try to bring out (of my patients) and let the rest of the world see."
Board certified by the American Board of Plastic Surgery, Dr. Vitenas is an alumnus of Tulane University Medical School in New Orleans. Since opening Vitenas Cosmetic Surgery in 1991, Dr. Vitenas has grown his private practice into one of the most trusted aesthetic offices in the Houston-area. A respected author and speaker, Dr. Vitenas routinely presents on his innovative techniques at cosmetic surgery meetings across the U.S. and abroad.
More information on Dr. Paul Vitenas can be found by contacting Vitenas Cosmetic Surgery at 281.484.0088, or fill out the Contact Us form. Conveniently located in the heart of Houston, Dr. Vitenas offers complimentary, in-person and online consultations. To get additional information on the 2017 list of Castle Connolly' Top Doctors, go to http://www.castleconnolly.com.