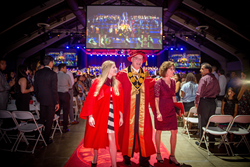 Pomona, California (PRWEB) August 15, 2017
Western University of Health Sciences President Daniel R. Wilson, MD, PhD, announced at his Inauguration that WesternU will move forward in bold new directions while using its foundational values of humanism and scientific excellence as its compass.
WesternU combined Wilson's Inauguration ceremony with Convocation, the traditional opening of the academic year, on August 12, 2017 at Fairplex in Pomona, California. WesternU welcomed nearly 1,000 new students to its Pomona campus.
WesternU Board of Trustees Chair Richard Bond, DO '82, DrPH, invested Wilson into the Office of President and presented him with the President's Medal.
"He has happily and seamlessly embraced the WesternU family to become one of our own," Bond said. "He is one who uses authority of high office to encourage collaboration, inspiration and invention, believing wherever we go, we go together. All of these qualities, and many more, make Daniel Richard Wilson the right president to lead WesternU into the future."
Wilson became WesternU's second president on July 1, 2016, succeeding President Emeritus Philip Pumerantz, PhD. Wilson honored his predecessor and wife Harriet for their contributions to WesternU, and also thanked founding Board of Trustees member Ethan Allen, DO, who continues to serve as board Treasurer and is an osteopathic pioneer.
Wilson then turned to the future, saying WesternU will look everywhere from international partnerships to new alignments and alliances, innovative degrees, and redoubling the boldness that powered WesternU's rise. He announced three new centers:

The Innovation Center will focus on future trends in health and education, exploring changes driven by economic, societal, political, technological, and consumer forces. The center will "identify and deploy disruptive creativity in education, health care and research."
The Center for Virtual Learning will mature rapidly from its current adolescence to expand WesternU's leading-edge expertise in and capacity for adaptive learning bolstered by technically augmented intelligence.
The Center for Clinical Research will lead mission-driven engagement of a highly diverse city and region, and will partner with health systems, corporations, and others. Faculty and students will move beyond learning and providing excellent standard care to embrace the extraordinary that, beyond curing disease, will promote health and wellness.
"These and many other initiatives will have formal courses and degrees that amplify not just our intellectual and economic impact but our social and ethical effect as well," Wilson said.
But WesternU's priority will always be education.
"We will always robustly prepare competent students in the full range of health sciences," Wilson said. "Yet we will do much, much more including new campuses, colleges and programs imbued with and guided by our pioneering culture and innovative character."
More than 300 faculty, administrators and dignitaries graced the Inauguration/Convocation stage. Twenty-two delegates, including Wilson's daughter, Victoria, represented universities from across the country and around the world. Pasadena Scottish Pipes and Drums provided processional and recessional music, and also performed a musical interlude. Wilson invited everyone to remember the rigor, pomp and splendor of the day.
"It is all a symbol not merely of academia but of the healing arts and sciences and, indeed, of the very life of life itself. So capture this and all of life's lessons. Carry these in your heart. There it all will be when you need it. At every turn. Whether to lift your own spirits amid the inevitable travails ahead or, more importantly, to reach in, take it out, and place in service to any who need succor and comfort," Wilson said. "On behalf of this marvelous university and for its future, your trust is cherished, your amity is esteemed, your energy is welcome, and your wisdom is treasured."
The Inauguration Ceremony featured several special guests and dignitaries. State Sen. Connie Leyva and Creighton University Professor Emeritus Richard Murphy, PhD, provided greetings. Johns Hopkins University professor and author Kay Jamison, PhD, read "Epilogue," by Pulitzer Prize-winning poet Robert Lowell. Wayne State University President M. Roy Wilson, MD, MS, formally introduced Wilson and listed his many accomplishments.
"In a way, Dr. Wilson has been preparing for the opportunity to lead this great institution since he was a very young man," M. Roy Wilson said. "I can think of no one better suited to answer the call. He is ready for the challenge."
Academic Senate Chair and Associate Professor of Optometry Joshua Cameron, PhD, announced three faculty awards. College of Osteopathic Medicine of the Pacific Associate Professor Vishwanath Venketaraman, PhD, received the WesternU Distinguished Teacher Award. College of Veterinary Medicine Associate Professor Mohammad Mir, PhD, received the Provost's Distinguished Scholar Award. College of Optometry Chief of Primary Care Services Bennett McAllister, OD, FAAO, received the Harriet K. and Philip Pumerantz Award for Leadership and Service.
Each of WesternU's nine colleges held a white coat ceremony following the Inauguration and Convocation ceremony. Each student donned a white coat for the first time, symbolizing their entry into the health professions.
Mary Lopez, PhD, RN, presided over her first white coat ceremony as dean of the College of Graduate Nursing. Each student choosing to attend WesternU wants something more for the nursing profession, Lopez said. CGN faculty will provide encouragement, mentorship and guidance during the journey.
"You will emerge as a new person and change who you are. As you change who you are, you will have an opportunity to be a hero and make a difference in patients' lives," Lopez said. "So I want to encourage you to become one of America's heroes. Become the nurse you want to be. We're so glad that you answered the call and started this nursing hero's journey.
Let's walk this nursing journey together to improve health in our homes, our neighborhoods, in the community and around the world."
Putting on the white coat for the first time was a surreal experience, said College of Allied Health Professions Department of Physician Assistant Education student James Zapata, MSPA '19.
"The people behind you who helped make this dream happen make putting on that white coat more than just a personal achievement," he said. "It's everyone who put their belief in you that you can do this. It's a tremendous moment."
First-year COMP student Ooceeh Afame, MHA, BS, said he chose WesternU because of its humanistic values, which are reflected in the staff and faculty.
"They live this value. It's not just something on a signpost," he said. "They care about our community. They care about making an impact on our world, our society and our nation."
Afame said he was proud to be starting school at the same time as the inauguration of Dr. Wilson.
"Congratulations to President Wilson. I want to be like you when I grow up," Afame said. "What a giant he is in the field of medicine and health care. His wealth of experience will take us to the next level, a level we never even imagined we could get to."