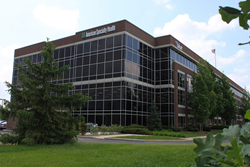 "Fewer than a tenth of Inc. 5000 honorees ever achieve 8-time honoree status; we are thrilled to be part of that elite Inc. 5000 Honor Roll," said ASH Co-founder, Chairman and CEO George DeVries.
SAN DIEGO, CA & CARMEL, IN (PRWEB) August 18, 2017
Inc. magazine has ranked American Specialty Health, Incorporated (ASH) as No. 3828 on its 36th annual list, the most prestigious ranking of the nation's fastest-growing private companies. This marks the eighth time in the last nine years that ASH has been included in the exclusive Inc. 5000 ranking. This year's ranking reflects ASH's 76 percent overall revenue growth from 2013 ($239 million) through 2016 ($424 million).
"As an 8-time honoree, you (ASH) are part of a very select group of companies," stated, Inc. President and Editor-In-Chief Eric Schurenberg in a letter to ASH Co-founder, Chairman and CEO George DeVries. "We call it the Honor Roll and fewer than a tenth of Inc. 5000 honorees - an already quite select group - ever achieve this milestone. Your repeat Inc. 5000 honors truly put you in rarefied company."
The Inc. 5000 list represents a unique look at the most successful companies within the American economy's most dynamic segment—its small and medium independent businesses. Companies such as Microsoft, Dell, Domino's Pizza, Pandora, Timberland, LinkedIn, Yelp and many other well-known names gained their first national exposure as honorees of the Inc. 5000.
"Being recognized among the top 5,000 of the nation's fastest-growing private companies eight of the last nine years is quite an honor, especially when you consider that there are around 5 million privately held companies in the U.S.," said DeVries. "Getting from where we started in 1987, with $34,000 in revenue our first year in business, to where we are today is due to an amazing team of people at ASH committed to growing and developing ASH into a premier national organization."
"Since our inception 30 years ago," DeVries added, "we've been driven by a culture of innovation that has helped us grow our membership continually every year, and helped us expand our products and services to meet new opportunities. Our leaders, managers and associates have delivered exceptional results over an extended period of years. Our clients - some of whom have been with us for more than 25 years - continue to look to us for effective solutions to improve the clinical quality of health care and to bend the cost curve. We're pleased to serve over 130 health plans and 43.7 million members nationwide."
According to Inc., the 2017 Inc. 5000, unveiled online at Inc.com and featuring the top 500 companies in the September issue of Inc. (available on newsstands August 16), is the most competitive crop in the list's history. The average company on the list achieved a three-year average growth of 481%. The Inc. 5000's aggregate revenue is $206 billion, and the companies on the list collectively generated 619,500 jobs over the past three years.
"The Inc. 5000 is the most persuasive evidence I know that the American Dream is still alive," says Inc. President and Editor-In-Chief Eric Schurenberg. "The founders and CEOs of the Inc. 5000 tell us they think determination, risk taking, and vision were the keys to their success, and I believe them."
Complete results of the Inc. 5000, including company profiles and an interactive database that can be sorted by industry, region, and other criteria, can be found at http://www.inc.com/inc5000.
About American Specialty Health
American Specialty Health Incorporated (ASH) is one of the nation's premier independent and privately owned specialty health services organizations, providing physical medicine provider networks and administration, fitness center networks and exercise programs, and population health solutions for health plans, insurance carriers, and employer groups. ASH contracts with over 130 health plans nationally and administers programs for 43.7 million members. Operating from offices in San Diego, CA, Southlake (Dallas), TX, Carmel (Indianapolis), IN, Temecula, CA and Columbia, SC, ASH has 1,400 employees. Additional products offered through ASH and its subsidiaries include the EmpoweredDecisions!TM, Healthyroads®, FitnessCoach®, Active&Fit®, Silver&Fit®, ExerciseRewardsTM programs and others. For more information about ASH, visit http://www.ashcompanies.com or call 800-848-3555. Follow us on LinkedIn or Twitter at @ASHCompanies.
About Inc. and the Inc. 500|5000
Methodology
The 2017 Inc. 5000 is ranked according to percentage revenue growth when comparing 2013 to 2016. To qualify, companies must have been founded and generating revenue by March 31, 2013. They had to be U.S.-based, privately held, for profit, and independent—not subsidiaries or divisions of other companies—as of December 31, 2016. (Since then, a number of companies on the list have gone public or been acquired.) The minimum revenue required for 2013 is $100,000; the minimum for 2016 is $2 million. As always, Inc. reserves the right to decline applicants for subjective reasons. Companies on the Inc. 500 are featured in Inc.'s September issue. They represent the top tier of the Inc. 5000, which can be found at http://www.inc.com/inc5000.
About Inc. Media:
Founded in 1979 and acquired in 2005 by Mansueto Ventures, Inc. is the only major brand dedicated exclusively to owners and managers of growing private companies, with the aim to deliver real solutions for today's innovative company builders. Winner of the National Magazine Award for General Excellence in both 2014 and 2012. Total monthly audience reach for the brand has grown significantly from 2,000,000 in 2010 to over 18,000,000 today. For more information, visit http://www.inc.com.
The Inc. 5000 is a list of the fastest-growing private companies in the nation. Started in 1982, this prestigious list of the nation's most successful private companies has become the hallmark of entrepreneurial success. The Inc. 5000 Conference & Awards Ceremony is an annual event that celebrates their remarkable achievements. The event also offers informative workshops, celebrated keynote speakers, and evening functions.
For more information on Inc. and the Inc. 5000 Conference, visit http://conference.inc.com/.