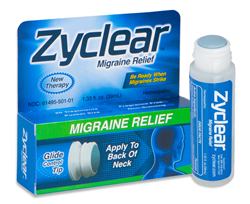 Alpharetta, GA (PRWEB) August 22, 2017
The Women's Choice Award, a growing platform that gives a voice to female shoppers across America, has awarded Zyclear Migraine Relief with the 2017 Women's Choice Award. The identification by women of an effective new migraine relief product is meaningful as studies show that 3 out of 4 migraine sufferers are women. In a survey taken by the Women's Choice Award organization, nine out of ten women who used Zyclear said they would recommend it to family and friends.
"The Women's Choice Award's mission is to simplify her life by recognizing brands tried, tested, and highly recommended by women, making it easy to buy with confidence," said Delia Passi, CEO and Founder. "By carrying the Women's Choice Award seal, brands like Zyclear signify their commitment to empower women to make smart buying choices."
According to the Migraine Research Foundation, migraines are the 3rd most prevalent illness in the world, with nearly 1 in 4 U.S. households having a person who suffers from migraines.
"Zyclear takes a different approach to relieving migraines," said Mitch Pelavin, President and Founder of Magnesium Direct, the makers of Zyclear. "Most people don't realize that hospital emergency rooms often give migraine patients an IV that contains magnesium. But taking magnesium at home rarely works because oral forms of magnesium, such as pills, are poorly absorbed by the body and have little effect on migraines. Zyclear was created to solve this problem. Zyclear is made from a special form of liquid magnesium that is applied to the back of the neck and absorbs through the skin, making it highly effective."
About Zyclear Migraine Relief
Zyclear Migraine Relief is a new solution for the millions of suffering migraineurs in America. The creators of Zyclear have taken an innovative approach to solving a problem that afflicts nearly 1 in 4 U.S. households. Zyclear is applied to the back of the neck for rapid relief. The pocket-sized applicator bottle enables quick and accurate application. Visit the official website at https://www.zyclear.com for more information.
About The Women's Choice Award
The Women's Choice Award sets the standard for helping women to make smarter purchasing choices. The company and its awards identify the brands, products and services that are most recommended and trusted by women. Additionally, they recognize those that deliver a recommendation-worthy customer experience. Awards are based on surveys of thousands of women, as well as research conducted in partnership with the Wharton School of the University of Pennsylvania. As the trusted referral source for women, WomenCertified Inc., home of the Women's Choice Award, created the first national award based on the ratings and preferences of women. Visit the official website at http://www.WomensChoiceAward.com to learn more.