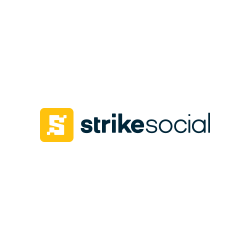 Our inclusion in the Inc. 500 proves that our hard work for our clients, dedication to AI and expansion into new markets have been the right choices for us.
CHICAGO (PRWEB) August 16, 2017
Strike Social — the world's largest YouTube ad optimization firm and partner in paid social media management for 500+ agencies and brands — ranks No. 17 on Inc. Magazine's annual list of the 500 fastest-growing private companies in the U.S. With revenue growth of 12,423.4 percent over the past three years, Strike Social also represents the No. 3 advertising and marketing company in the U.S. and the No. 1 fastest-growing company across all sectors in Illinois.
Published each year since 1982, the Inc. 500 highlights America's fastest-growing privately owned companies. Strike Social's top position in Illinois and top 20 position nationwide validates the firm's unique application of artificial intelligence to YouTube and social media advertising.
This was the first year that Strike Social could be eligible for the list. Since its beginnings in 2013, the company has blossomed into a global workforce in 16 markets, with headquarters in Chicago and offices in Kraków and Manila. In that same time period, Strike Social's revenues have grown at a rate 1,854 times greater than the U.S. economy (6.7 percent). Meanwhile, the company's earnings in 2016 ($46.5 million) have outpaced the median revenue ($6.4 million) for all 42 advertising and marketing companies included in the Inc. 500.
"It's an honor to be listed among these impressive companies that are setting the pace for growth and innovation," said Patrick McKenna, Strike Social's chairman and co-founder. "Our inclusion in the Inc. 500 proves that our hard work for our clients, dedication to AI and expansion into new markets have been the right choices for us. As we grow our global team and roll out new advertising platforms for our clients, we will continue to honor the entrepreneurial spirit that has brought us this far."
Every day, Strike Social's global team manages more than 15,000 YouTube and social media ad campaigns for large, multinational agencies and brands. The company's vast network of media buyers, data scientists and more are able to optimize their clients' advertising around the clock with the help of AI, improving scale by 25x and campaign performance by 30–70 percent.
As it works to modernize media buying, Strike Social is continuing to develop innovative platforms, such as new AI-powered software for YouTube advertising (coming out in September).
For more information about Strike Social, visit strikesocial.com.
About Strike Social
Strike Social harnesses the power of artificial intelligence to drive the best outcomes in YouTube and social media advertising. Through media-buying software and service, Strike Social manages 15,000+ campaigns each day for the world's leading agencies and brands, including Beats, Xbox, Honda, Mattel and KFC. With global operations, Strike Social is headquartered in Chicago. Learn more at strikesocial.com.
About Inc. Media
Founded in 1979 and acquired in 2005 by Mansueto Ventures, Inc. is the only major brand dedicated exclusively to owners and managers of growing private companies, with the aim to deliver real solutions for today's innovative company builders. Winner of the National Magazine Award for General Excellence in both 2014 and 2012. Total monthly audience reach for the brand has grown significantly from 2,000,000 in 2010 to over 15,000,000 today. For more information, visit inc.com.
The Inc. 500|5000 is a list of the fastest-growing private companies in the nation. Started in 1982, this prestigious list of the nation's most successful private companies has become the hallmark of entrepreneurial success. The Inc. 5000 Conference & Awards Ceremony is an annual event that celebrates their remarkable achievements. The event also offers informative workshops, celebrated keynote speakers and evening functions.
Inc. 500 Methodology
Companies on the 2017 Inc. 500 are ranked according to percentage revenue growth from 2013 to 2016. To qualify, companies must have been founded by March 31, 2013. They must be U.S.-based, privately held, for-profit and independent — not subsidiaries or divisions of other companies — as of December 31, 2016. (Since then, some companies on the list have gone public or been acquired.) The minimum revenue for 2013 is $100,000; the minimum for 2016 is $2 million. As always, Inc. reserves the right to decline applicants for subjective reasons. Note: Growth rates used to determine company rankings were calculated to decimal points. There are no ties on this year's Inc. 500.