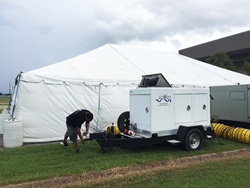 There's a misconception that the film industry has left Louisiana. That's just not true.
New Orleans, LA (PRWEB) August 16, 2017
After acquiring Silver Screen Rentals and expanding the company to Georgia, new owners R. Bryan Wright and Dave Pomier are reaffirming their commitment to Louisiana by relaunching the company's New Orleans facility. The two veteran film producers are bullish on the future of Louisiana's film and television industry.
"Our goal has always been expansion," says Silver Screen owner R. Bryan Wright, who's Louisiana-produced film credits include Zipper and Lee Daniels' The Butler. "When we purchased Silver Screen earlier this year, we didn't know how long that would take. But after a strong start in the spring, we realized that we could expand the company to Georgia right away and still be ready for the fall slate of Louisiana shows."
Once the most popular state for film production, Louisiana experienced a decline in popularity after the State made changes to its film incentive program in 2015. Although the changes weren't entirely negative, the regulatory uncertainty was enough to send many producers to Georgia. However, once the 2017 Regular Session of the Louisiana Legislature came to an end in June, new laws aimed at bringing long-term stability to the state's film industry had passed. The result is a fall filled with work for Louisiana-based film crews and increased demand for film-related services.
Over the summer, Silver Screen paused its operations to reorganize and expand. "As producers, we have a lot of advance knowledge about what projects will be coming to town. We knew the summer would be slow in Louisiana, making it the perfect time to focus on expanding to Georgia," says Dave Pomier. "Now, we're fully operational and serving projects in both states. It's wonderful."
Projects shooting in Louisiana this fall include the veteran CBS TV series NCIS: New Orleans, Freeform's new Marvel series Cloak & Dagger, a TNT pilot called Deadlier Than The Male, the feature film Last Laugh, and a Hulu TV series called The First, a big-budget sci-fi drama from House of Cards creator Beau Willimon.
"There's a misconception that the film industry has left Louisiana. That's just not true," says Wright. "Right now, we're putting up tents and performing other locations services for projects that have already started shooting in New Orleans."
Louisiana's new film incentive laws were intended to attract more television series, which employ crew members for longer periods of time and offer the possibility of economic impact from future seasons. "We're talking to eight major projects that expect to shoot here this fall. Six of those are TV series," says Wright. "And early next year, veteran TV shows like Queen Sugar and Preacher will return. That's a lot of opportunity for Silver Screen and other service companies like us. The film industry here is still very lucrative."
Dave Pomier is a veteran film producer, production manager and former locations manager with over thirty-six years of experience in film production. He has produced films all over the world, from Baton Rouge, Louisiana to Shanghai, China. His past credits include Free State of Jones, Looper, Self/Less, Cleaner, Seeking Justice, Spike Lee's She Hate Me, 25th Hour and Miracle at St. Anna, Oliver Stone's U-Turn and the Coen Bros' Raising Arizona.
Bryan Wright is a film producer and film finance consultant. After starting his film career as a Louisiana locations manager on Jumper, Miracle at St. Anna and Cadillac Records, Wright helped produce and finance his first feature in 2008, The Way of War starring Cuba Gooding, Jr. In 2009, he founded Inner Media Capital, where he served as an executive producer, financier and production consultant on over 40 movies. In 2014, Wright took his broad range of film finance experience and founded 33 Pictures. Zipper, his first film under that banner, premiered at the 2015 Sundance Film Festival. His past credits also include Lee Daniels' The Butler, Left Behind (2014), American Horror House and The Chameleon.
Silver Screen Rentals was founded in 2009 as the first full-service location equipment rentals company in Louisiana. Created to cater to the specific and time-sensitive needs of the film industry, Silver Screen offers everything a locations department needs: a large assortment of tents, portable air conditioners and heaters, generators, temporary flooring, tables & chairs, makeup stations, passenger vans, carts, dollies and more. Silver Screen now has a new location at 5169 Southridge Parkway in Atlanta, Georgia. In Louisiana, Silver Screen's facility is located at 500 Edwards Ave in New Orleans. For more information, call 404.445.5534 or visit http://www.silverscreenrentals.com.