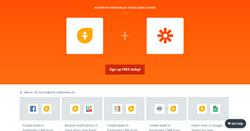 "Freshsales CRM makes managing your entire sales process from lead gathering and contact management to tracking and closing deals very simple. With the Zapier integration, the CRM is now instantly connected to over 750 apps that we use in the workplace"
San Bruno, CA (PRWEB) August 16, 2017
Freshworks, the leading provider of cloud-based business software, today announced the integration of Freshsales CRM with Zapier, a popular integration-platform-as-a-service (iPaaS) that allows business users to integrate more than 750 apps, including popular apps such as Slack, Typeform, Google Sheets, Autopilot, and Quickbooks with no developer effort required, thereby eliminating tedious and time-consuming tasks to facilitate flow of information.
Oftentimes, creating integrations between apps can be an expensive, developer effort-intensive and time-consuming processes. Zapier provides an intuitive point and click interface for non-developers to create integrations between apps, termed 'Zaps', based on triggers which can set off particular actions. This is of immense value to high-velocity sales teams as it allows them to automate tasks and move data between their favorite apps effortlessly.
"Freshsales CRM makes managing your entire sales process from lead gathering and contact management to tracking and closing deals very simple. With the Zapier integration, the CRM is now instantly connected to over 750 apps that we use in the workplace," said Srivatsan Venkatesan, Head of Product, Freshsales. "Now our customers can automatically move data between Freshsales and web apps, thus helping them be more productive. Creating workflows with these powerful 'Zaps' are just a few clicks away."
Since all apps on Zapier allow users to create their own integration points using actions and triggers, organizations can design any number of cross-app actions to fit the specific needs of their business.
At launch, Freshsales offers over 10 Zaps that users can use in addition to creating their own Zaps.
The 'Reap' my leads bundle helps users create or update leads in Freshsales via Gravity Forms, Typeform, Google Forms, and Facebook Ads.
The 'Reach' my leads bundle helps users add leads from Freshsales as new contacts in Autopilot, Mailchimp, or Woodpecker.
The 'Relay' my information bundle allows sales teams to stay on top of new leads created in Freshsales via Slack notifications. With this bundle, users can also create or auto-update a contact in Freshsales when a Calendly appointments is scheduled; or add customer conversations via LiveChat chat as notes in Freshsales, making lead management a cinch.
"Automating tedious tasks enables you to focus on your most important work", said Wade Foster, CEO of Zapier. "Now that Freshsales integrates with Zapier, teams can automate their sales workflow using over 750 apps. With prospects being automatically funneled from lead generation tools and reps reacting to lead updates faster, teams will be capable of closing more deals."
The Zapier integration is available to all Freshsales customers.
About Freshsales
Freshsales is an intuitive, easy to use CRM that your sales force will love. With AI-based lead scoring, built-in phone, email, activity capture and more, you can now stop juggling between multiple tools and start selling faster and more importantly, smarter.
About Freshworks
Freshworks Inc. is the parent company behind the suite of products which includes Freshdesk, Freshservice, Freshsales and Freshcaller. The company's suite of products is designed to work tightly together to increase collaboration and help teams better connect and communicate with their customers and co-workers. Founded in October 2010, Freshworks Inc. is backed by Accel, Tiger Global Management, CapitalG, and Sequoia Capital India. Freshworks has its HQ in San Bruno, California and global offices in India, UK, Australia, and Germany. The company's cloud-based suite of SaaS products is widely used by over 100,000 customers around the world including Honda, Bridgestone, Hugo Boss, University of Pennsylvania, Toshiba and Cisco.