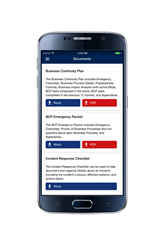 Lubbock, Texas (PRWEB) August 16, 2017
Since 2009, tandem Business Continuity Plan (BCP) has provided financial institutions with an online platform for building and maintaining a compliant and disaster-ready business continuity plan. Now, the tandem App delivers the ability to access the BCP from any mobile device. The app provides easy access to download the full plan and any pertinent emergency checklists and instruction manuals designed by the institution. In addition to the downloadable documents, the app provides quick access to employee and vendor contact information right on the screen. The app also expands capabilities for emergency alerts as administrators can initiate alerts to contact employees via email, phone call, text, or a mobile notification within the app.
Highlights of the tandem app include:

The app is free to use by institutions who subscribe to tandem.
The app functions on any mobile device (phone, tablet) on most operating systems (iOS, Android).
The app is useful for any kind of business interruption.
App features coordinate with user roles so all employees can use it for receiving notifications, while higher roles can use it to access important documentation.
The tandem App is free in the iTunes App Store or the Google Play Store and usable by anyone currently subscribed to the tandem Business Continuity Plan module. Search "tandem by CoNetrix".
tandem by CoNetrix is an online software suite of tools used by 1,300 financial institutions in all 50 states to manage information security and compliance. Modules include: Risk Assessment, Vendor Management, Business Continuity Planning, Policies, Social Media Management, Compliance Management, Audit Management, Cybersecurity, Phishing, and more. Users can expect the tandem App to integrate with more modules in the future.
About CoNetrix: CoNetrix is a full-service technology consulting, security and compliance firm with roots dating back to 1977. Founded in Lubbock, Texas, CoNetrix now serves customers across the U.S., providing a variety of technology and security solutions, including online security and compliance software, IT audits, security vulnerability testing, risk management, technology consulting, cloud hosting, and managed services. Security is designed into all of its offerings, from its software to its consulting services. CoNetrix specifically serves financial institutions – such as banks, savings associations, credit unions, and trust companies – as well as enterprises requiring a high level of security in their operations.