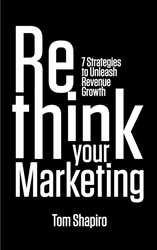 I wrote 'Rethink Your Marketing' to help marketers reimagine the possibilities in creating a growth engine for their business.
Burlington, MA (PRWEB) August 17, 2017
Tom Shapiro, CEO of the marketing, branding, and design agency Stratabeat, Inc., has announced the release of his debut book entitled "Rethink Your Marketing: 7 Strategies to Unleash Revenue Growth." When a business hits a revenue plateau, the marketing team can feel like it's going around in circles no matter what it tries. "Rethink Your Marketing" helps marketers get unstuck and identify the specific levers that unlock new growth.
Whether grinding golf balls and iPhones in a kitchen blender, firing 60% of one's clients, or deploying basketball-playing sumo wrestlers, "Rethink Your Marketing" provides counterintuitive examples from more than 50 companies that have rethought their marketing and jumpstarted their growth. The book expands upon the transformative nature of neuromarketing and guides readers to take bold action through seven strategies, including the rethinking of one's audience, one's metrics, and one's future.
"Tom has created a wonderfully concise, fun to read roadmap for all brands – no matter where they are in their life cycle – who are eager to 10X their growth," states Andrew Wilson, Account Executive of Google. "'Rethink Your Marketing' should be required reading for anyone working in a marketing role."
In the book, Shapiro draws from personal experience, as well as interviews with top executives at Domino's, Tough Mudder, Nike, Legendary Entertainment, and others, to illustrate the power of lateral thinking in business.
"When a brand gets stuck and revenue flatlines, too often the brand tries copying more successful competitors or starts doing what's hyped by the media. Ironically, though, these are the exact opposite strategies as to what is effective in turning things around," states Shapiro. "I wrote 'Rethink Your Marketing' to help marketers reimagine the possibilities in creating a growth engine for their business."
Stemming from years of agency experience managing the accounts of startups, middle market companies, and Fortune 100 companies alike, Shapiro understands the potential of rethinking one's marketing firsthand. When he joined the digital marketing agency iProspect as the 85th employee, the company relied on large industry events for the generation of new leads, with each event costing approximately $30,000 to $50,000. Shapiro felt there had to be a more effective way and together with a colleague launched a series of small intimate events at less than 1/10 of the cost. The first two events produced multi-million dollar clients respectively and the local functions soon became the company's top lead driver. The organization then grew to over 700 employees within five years.
After iProspect, Shapiro went on to establish Stratabeat, Inc., an agency based out of Burlington, MA, which specializes in neuromarketing, branding, and web design for middle market companies. Stratabeat helps clients to rethink their brand and marketing strategies.
For more information about "Rethink Your Marketing" or to arrange an interview with author Tom Shapiro, visit https://rethinkyourmarketing.com/.