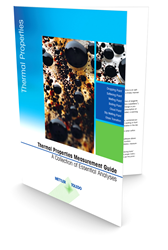 METTLER TOLEDO Melting Point Excellence instruments measure the transmittance of red LED light through holes inside the furnace and record the melting process using a video camera.
Columbus, OH (PRWEB) August 22, 2017
Working in various industries that utilize many different thermal properties is challenging, yet rewarding. Natural products of varying composition need to be characterized and added to consistently make products of high quality to meet consumer expectations. This requires repeatable and stringent quality assurance and control measures. Given different regulations and measurement parameters outlined by organizations such as USP, ASTM, ISM, ISO, or IP, strict adherence to the standards is prerequisite, thus requiring diligent execution of work tasks. METTLER TOLEDO has compiled a comprehensive guide that outlines measurement principles, tips & hints, and relevant industry applications and standards for the following thermal properties: dropping point, softening point, melting point, boiling point, cloud point, slip melting point, and the glass transition.
Measurement Principles
Understanding the science behind the measurement principles will encourage seamless integration into a wide variety of industries, applications, and workflows. For example, melting point is a property used to characterize powered crystalline materials that are opaque in the crystalline state and transparent in the liquid state. This distinct difference in optical properties can be measured to determine melting point by recording the percentage of light intensity shining through the substance in the capillary (i.e. the transmittance) in relation to the measured furnace temperature. METTLER TOLEDO Melting Point Excellence instruments measure the transmittance of red LED light through holes inside the furnace and record the melting process using a video camera.
Tips & Hints
Combined with METTLER TOLEDO's Thermal Values and Thermal Analysis Excellence instruments, the experts have provided guidance on sample preparation and property measurement. Together the tips & hints and instruments increase productivity, reduce cost, and make it easier to measure thermal properties in different work environments. Integrating these products and tips into SOPs ensures accurate and repeatable results. For example, the revision to USP 741 specifies the use of gently pulverized dried material filled to a height of 3mm in the capillary tube, with a heating rate of 1 °C/min. As a result, this technique is recommended for all METTLER TOLEDO Melting Point Excellence instruments.
Application Overviews
The guide provides relevant application examples to show how the measurement of thermal properties can be utilized in many industries. Application examples also include recommended instruments that should be used for reliable results. For example, the guide discusses the melting point of urea, how to adhere to the pharmacopeia method, and how to create customized methods to check the purity and identity of substances.
Download the guide to get more information on Thermal Properties Measurement.
About METTLER TOLEDO
METTLER TOLEDO is a leading global manufacturer of precision instruments. The Company is the world's largest manufacturer and marketer of weighing instruments for use in laboratory, industrial and food retailing applications. The Company also holds top-three market positions in several related analytical instruments markets and is a leading provider of automated chemistry systems used in drug and chemical compound discovery and development. Additional information about METTLER TOLEDO can be found at http://www.mt.com/analytical.