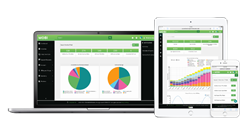 Indianapolis, IN (PRWEB) August 17, 2017
MOBI, a mobility management platform that enables enterprises to centralize, comprehend, and control their device ecosystems, has launched its New Look – a brand new interface and enhanced user experience, which allows users to access MOBI anywhere on all devices.
Designed for all devices and screen sizes and optimized for touch on mobile, MOBI's New Look debuts new, interactive visualizations and a fresh foundation on which future features can be built. Featuring a modern color palette, collapsible side navigation menu, and fresh icons, MOBI's New Look combines the latest in console design with feedback from MOBI's customer base.
MOBI's Asset Manager, Expense Manager, Workflow Manager, and Program Manager can now be accessed on all devices whenever convenient, making managing complex mobility programs easier than ever before. MOBI's developers designed the new interface with the optimal user experience in mind; a pattern-based design, intuitive components, and new self-service capabilities should lead to a much more gradual learning curve, increased program interactivity, and the discovery of new business efficiency.
"We are very excited to roll out the New Look for MOBI's software," said Eric Sendelbach, MOBI's Chief Technology Officer. "It's been a long time in the making! To see it in the hands of users who helped us design it is very fulfilling. In addition to its modern, responsive design, we're thrilled to have streamlined a lot of elements to provide a more consistent experience whether you're in the office or on the go, including more screen real estate with collapsible menus and new, user-friendly features. We're very happy with how it has turned out and how it's being received."
MOBI began transitioning customers to the New Look in the second quarter of 2017. All current customers now have access to the updated interface, and moving forward, all new customers will onboard with it as well.
New Look, New Themes
Soon, MOBI's customers will be able to customize their environments with the New Look, too. With MOBI's new Theme Designer, companies will be able to upload a logo, change the header background color, apply custom colors to primary navigation, and more.
New Global Standards
In addition to its New Look, MOBI has rolled out new features that are of particular interest to its customers with a global presence. MOBI now supports currency conversion, allowing expenses and reports to be displayed in different currencies. Decision makers and managers now have a better global view across all program expenses.
For users with a native language other than English, the ability to set a profile default language is a game-changer. Alternatively, administrators can set language defaults for user groups or individuals. Now, users can be greeted in their native language each time they login to the MOBI platform.
"A premium user experience has always set MOBI apart, and introducing even more global standards helps us deliver on that promise to all our users," said Ian Runyon, Vice President of Product. "We have integrated International, National, and E164 Number formats into the core of our Asset Manager. In addition, you can now configure role- and geography-based language and currency defaults, explore historic point-in-time currency views, and enjoy live validation of addresses across the globe."
To learn more about how MOBI's software can help enterprises manage their device ecosystems, visit: http://mobiwm.com/software.
About MOBI:
MOBI is a mobility management platform enabling enterprises to centralize, comprehend, and control their device ecosystems. Our industry-leading cloud software saves your program money and satisfies all global enterprise needs. Learn more about our mobility solutions at http://mobiwm.com/.