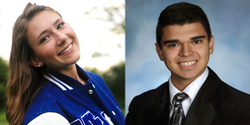 My parents have taught me that my hearing aids don't define who I am. They are only a part of me. Though it may be hard at times, I must never quit.
Syracuse, NY (PRWEB) August 29, 2017
For nearly six years, EarQ and the NFL Players Association's Professional Athletes Foundation have been addressing hearing healthcare in former professional athletes and their fans. For the second consecutive year, the partnership is furthering its initiative by granting scholarships to student athletes with hearing loss. The recipients, Grace Gleba and Juan Cornejos, are determined individuals who have proven themselves athletically and academically. The partnership is proud to announce them as the 2017 scholarship recipients.
Grace recently graduated from Warren Hills Regional High School in Washington, New Jersey, where she cheered competitively. Her activism began at a young age when her family spearheaded a New Jersey law that states children under 15 will have their hearing aids covered by insurance. Today, Grace is planning to attend Pennsylvania State University in the fall for Communications Sciences and Disorders, so she can continue to help others with hearing loss.
"My parents have taught me that my hearing aids don't define who I am. They are only a part of me," says Grace. "Though it may be hard at times, I must never quit."
Juan is dedicated student and a role model in his community. He graduated from Mountain Lakes High School in Mountain Lakes, New Jersey, where was a record-breaking track and field athlete. In addition to succeeding athletically and academically, he volunteers in his community and tutors his deaf peers in math. Juan plans on attending Gallaudet University in the fall for Accounting.
"A hard of hearing athlete can do anything a hearing athlete can do," says Juan. "If I can achieve success in discus against many obstacles, I know with the right effort, I can achieve a degree in accounting."
With more resources to continue their education, these students are better equipped to thrive and become advocates and role models for young people with hearing loss. Through its partnership with the NFLPA, EarQ can continue to spread hearing health awareness and shatter stigmas surrounding hearing loss. Individuals like Grace and Juan help make this possible.
For more information on EarQ and its partnership with the NFLPA, please contact 866-432-7500.
About EarQ:
A prestigious nationwide network of independent hearing healthcare providers, EarQ utilizes innovative business and marketing practices as well as national public awareness efforts to advocate for excellence in the industry and patient care. Through its 1,400 hearing healthcare provider locations nationwide, EarQ helps provide greater access to quality hearing healthcare services and products.
About the NFL Players Association:
The National Football League Players Association (NFLPA) is a non-profit, professional sports union that protects the best interests and welfare of all NFL players. It serves as the exclusive bargaining agent for all NFL players in collective bargaining. Established in 1956, the NFLPA has a long history of assuring proper recognition and representation of players' interests. The NFLPA is governed by a Board of Player Representatives, acting in accordance with the NFLPA Constitution and federal labor laws. The NFLPA's responsibilities include: Representing all players in matters concerning wages, hours and working conditions and protecting their rights as professional football players; ensuring that the terms of the Collective Bargaining Agreement are met; negotiating and monitoring retirement and insurance benefits; providing other member services and activities; providing assistance to charitable and community organizations; enhancing and defending the image of players and their profession, on and off the field.