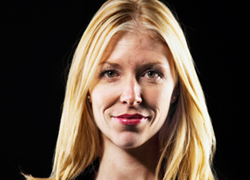 We'll look at the marketing to moms disconnect on Madison Avenue.
New York, NY (PRWEB) August 16, 2017
In their presentation "June Cleaver Is Dead: It's Time to Rethink Your Marketing and Your Workplace" WongDoody mom marketers Sklyer Mattson and Pam Fujimoto debunk common mom stereotypes for brand marketing execs at M2Moms® – The Marketing to Moms Conference, Oct. 3 & 4, NYC. Mattson and Fujimoto explained, "Our goal is to help marketers not only rethink the way they're marketing to moms, but also to look at how they attract and retain mom talent in their businesses." WongDoody, recently named Ad Age's 'Small Agency of the Year', is a full-service ad agency with offices in Seattle and Los Angeles.
Mattson and Fujimoto continued, "We'll examine the intersection between marketing and motherhood across a variety of fronts. Which ads clearly suffer from a lack of the mom perspective? What does walking the walk really mean when it comes to championing moms in the workplace? And what happens when you put a campaign into the world about a serious mom issue that needs a national spotlight? Beyond M2Moms®, we tackle all of these issues and more on http://www.junecleaverisdead.com."
"When you consider that 71% of today's moms work, the ideal of the stay-at-home, suburban mom epitomized by the June Cleaver mom of the "Leave It To Beaver" TV series of the 50' and 60's really is dead," according to Nan McCann. M2Moms® producer. "But then you wonder about the disconnect on Madison Avenue when you see surveys that show only 20 % of mothers said that advertisers were doing a good job connecting with them. And another 70 % said that marketers are not focused on moms in their advertising and 30 % said that they see ads that offend them."
"That's why it's important for savvy brand and ad execs from virtually every product category to attend M2Moms® and learn more about today's 21st Century mom," McCann explained. "They'll get the research and case studies, the new techniques and how-to sessions that will really help them improve their marketing and sales. Moms are brand-critical decision makers for a broad range of products and services. They are today's super power consumers."
"The Fast Facts Page on M2Moms® website is filled with statistics showing that moms buy everything from autos to prom dresses, diapers to dog food, lipstick to laptops, tires to pharmaceuticals. They buy for their homes, for their kids and they plan and pay for the family vacation. They purchase on every channel, every possible screen … traditional and new media … they use it all."
"Every year, "McCann continued, "M2Moms® is attended by a comprehensive and diverse list of brands including Microsoft, Johnson & Johnson, Evenflo, IKEA, Abbott Nutritionals, GM, Allstate, Heinz, Symantec, Hasbro, BBC, NBA, Procter & Gamble, Wyeth and Coca-Cola. M2Moms® attendance typically sells out."
M2Moms® sponsors include Presenting Sponsor: Google; Associate Sponsor: Cooper Tires; Showcase Sponsors: GfK, WebMD, Tiny Beans, Garden of Words, Ask Patty, Macaroni Kid, Strottman, FletcherPR, House Party, Mom 365, Marketing to Mums, WongDoody, and the Baby Center. Video Content Resource Sponsor: Snippies. PMP, Paramount Market Publishing is the official M2Moms® bookseller.
For M2Moms® information: http://www.m2moms.com or 860.724.2649 x11. M2Moms® is produced by PME® Enterprises LLC, 912 Silas Deane Hwy., Suite 101, Wethersfield, CT 06109.