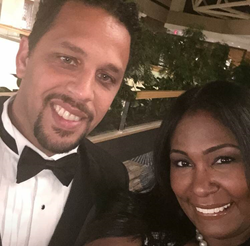 In their own ways, the Dobbes and the Allens saved Atlanta from itself. They kept it from burning again, and the modern city rose.
Atlanta, GA (PRWEB) August 21, 2017
The latest news from Atlanta's film industry is that Wendy Eley Jackson, and Maynard Jackson III, have optioned the book, "Where Peachtree Meets Sweet Auburn," written by Gary Pomerantz and are developing it for television! Auburn Avenue Films, the film production company owned by the Jackson team, recently inked an agreement with Pomerantz to turn the book into a television series. More importantly, they are well on their way to finding a home for the production.
Atlanta, Georgia is a hot town when it comes to making movies; and Auburn Avenue Films has caught the fever with the making of the documentary film, MAYNARD, which is set to be released in 2018. With a more than qualified production team, highlighted by the award-winning Sam Pollard as director, MAYNARD, the movie about the life and times of Atlanta's first Black Mayor, is the first major project in a line of ventures for this new film company.
"The book was published in 1996. That's 21 years ago," said Pomerantz. "However, when Wendy and Maynard III approached me earlier this year, I could feel their interest. It was palpable. It was authentic. This story is deeply personal to them. I've always believed that the story of the Dobbses and the Allen's was not only historic, but cinematic. It's got drama, flashpoints and enormous historic sweep, from Civil War through civil rights. I am delighted that we are working together," Pomerantz added.
Auburn Avenue Films, Inc., organized in 2015, is a collaborative team of talented multi-cultural minds. Based in the heart of Atlanta, the team, that consists of industry A-listers, thrives on taking concepts and transforming them into experiences that tell stories. Whether it's a studio made motion picture and television project, independent films or digital entertainment, the partners use their creative assets to create inspiration and innovative stories. "I have been in the film industry for 25 years," said Wendy. "It was Maynard III who wanted to do a movie about his father's legacy which launched Auburn Avenue Films. We have been crisscrossing the country for the past three years and have met some wonderful people in the film industry who have helped us because this is a great product. We are moving forward with the Where Peachtree Meets Sweet Auburn project," said Wendy and Maynard III.
"Where Peachtree Meets Sweet Auburn: The Saga of Two Families and the Making of Atlanta" is a magnificent piece of writing, a beautiful tapestry of prose in which the stories of two of Atlanta's most celebrated families have been woven densely into the history of the city itself. It helps, of course, that these are not just any families: one is that of Ivan Allen Jr., the city's next-to-last white Mayor, who was descended from a rich and proud Confederate slave-owning family, and whose father was a segregationist businessman who did much to forge the city's modern identity. The other family is that of Maynard Holbrook Jackson Jr., the city's first black Mayor, who was descended from slaves and whose grandfather was John Wesley Dobbs, one of the city's most prominent black leaders," said Paul Goldberger, New York Times.
"In their own ways, the Dobbses and Allens saved Atlanta from itself. They kept it from burning again, and the modern city rose," so says Pomerantz.
It is time to tell the world this story.