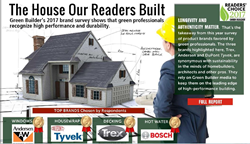 Lake City, CO (PRWEB) August 24, 2017
Longevity and Authenticity Matter. That's the takeaway from this year's brand survey of product brands favored by green professionals.
Our green brand survey consistently ranks as one of the most widely read articles we publish at Green Builder Media. If you know builders and architects, this makes sense. They rely to a large degree on the recommendations of their peers to make product choices.
Of course, those selections depend a lot more on whether a product is "sustainable." It has to be durable, reliable, predictable and (sometimes) affordable. This is what makes a survey of green pros different from a consumer survey. Their priorities are different. When they choose Ford trucks over Toyota, it's not about a "gut feeling," it's because of personal experience. They like the way the vehicles perform, and how they save fuel and maintenance costs.
As you review the responses to this survey, keep in mind that these are people who field test products for a living, and the four brands highlighted—Andersen Windows, DuPont Tyvek, Trex Decking, and Bosch Thermotechnology—are synonymous with sustainability in the minds of our readers.
Visit http://www.greenbuildermedia.com/the-house-our-readers-built-2017 to check out the house.
About Green Builder Media
Green Builder® Media, LLC is the nation's leading media company focused on green building and sustainable living, affecting positive change by providing inspirational information to over 200,000 progressive building professionals and 38 million consumers who are interested in sustainable living. With a comprehensive suite of content marketing, digital, social, and print media options, high-profile demonstration projects, market research, and live events, Green Builder Media offers a blend of visionary and practical information covering a broad spectrum of sustainable living topics, including Internet of Things, smart home technologies, energy efficiency, water conservation, indoor air quality, resilient housing, renewables and clean transportation. For more information, visit http://www.greenbuildermedia.com.