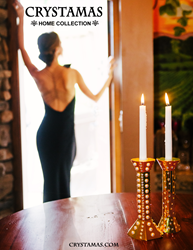 "Our daughters will be able to keep these ornaments for the rest of their lives because of the great craftsmanship and pass them on through the generations to come to continue our family tradition."
Los Angeles, CA (PRWEB) August 17, 2017
'Crystamas' is a luxury ornament company which was launched in 2016 by a husband and wife team who are all about giving. Together with the pair's twin daughters aged four, Robert and Nancy Pierce enjoy helping various local charities throughout the year as part of the family tradition and the company essence.
With Nancy's love for jewelry, fashion, and design and Robert's experience in business as a day trader and venture capitalist, the Pierce family controls everything from concept to inception. They are constantly working on new designs which can take up to six months to complete from Nancy's original sketches. "The girls are used to seeing the ornaments since they were very young and we never have to worry about them playing with the pieces anymore. They love to hang them and are very gentle," explained Robert. Each design is crafted from in one solid piece, then dipped in precious metals and delicately hand set with the finest Swarovski Crystals.
The company was born through a realization that most ornaments which are passed down through families are not of the highest quality and very often will break. Having experienced this first hand with an ornament given to Robert by his late father which sadly broke, the couple wanted to create something beautiful for their daughter's first Christmas and Hanukkah. "Our daughters will be able to keep these ornaments for the rest of their lives because of the great craftsmanship and pass them on through the generations to come to continue our family tradition," said Robert.
Dubbed the most luxurious ornaments and heirloom pieces in the world, 'Crystamas' is growing rapidly and has fast become a year round gift giving experience with the new 'Home Collection'. Thirteen new pieces have been added including jewelry boxes, a baby rattle a candlestick and a selection of spectacular wedding gifts with everything available in gold and Rhodium. Full GIA certified diamond versions are available in very limited quantities on a first come basis.
For more information you can visit http://www.crystamas.com
http://www.facebook.com/crystamasinc
http://www.instagram.com/crystamasinc
http://www.twitter.com/CrystamasInc