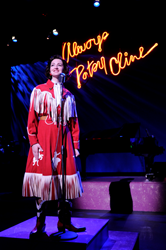 Salt Lake City, Utah (PRWEB) August 17, 2017
Salt Lake Community College's Grand Theatre is for the seventh time hosting singer Erica Hansen as Patsy Cline in "Always… Patsy Cline." The popular show runs Aug. 24 to Sept. 22 at the Grand, 1575 S. State Street, Salt Lake City.
Written by Ted Swindley, "Always… Patsy Cline" is a two-woman show based on the true story of Patsy Cline's friendship with devoted fan and Houston housewife, Louise Seger, played this year by Dawn Veree. Packed with 27 of Cline's greatest hits, including "Crazy," "Walkin' After Midnight," and "Sweet Dreams," fans will rediscover forgotten tunes and walk away humming new ones. Cline, who died in a 1963 plane crash at age 30, has been called one of the most influential, successful and acclaimed female vocalists of the 20th Century.
Hansen's portrayal of the country legend has garnered both critical acclaim as well as captured the hearts of Grand theatergoers time and again. The Deseret News' Ivan Lincoln said of the show, "The music is performed to absolute perfection by Hansen and has the crowd literally dancing in the aisles. Hansen really nails it." Jay Wamsley wrote in The Utah Statesman, "Hansen so enjoys her role, that the emotion of the songs simply rolls over and saturates the audience."
This is the theatre's most requested show and Grand's staff is thrilled to be hoppin' back on the "honky tonk merry-go-round." Tickets range in price from $14 to $23 and are available by calling 801-957-3322 or visiting grandtheatrecompany.com. Evening performances are held Thursdays through Saturdays, with 2 p.m. matinees on Saturdays.
The landmark Grand Theatre is a 1,100-seat venue located at Salt Lake Community College's historic South City Campus, home of the innovative and state-of-the-industry Center for Arts and Media in Salt Lake City. The theatre dates back to the 1930s when it was part of South High School, which SLCC purchased in 1989, a year after the school closed. The Grand Theatre began offering productions that year and has since with great care and expense retained its Depression-era charm and attraction while also incorporating the latest technology in lighting and sound. For the past three years it has been an official screening venue for the annual Sundance Film Festival. Every season the Grand is host to award-winning theatre and dance productions and concerts that attract arts enthusiasts from all along the Wasatch Front.